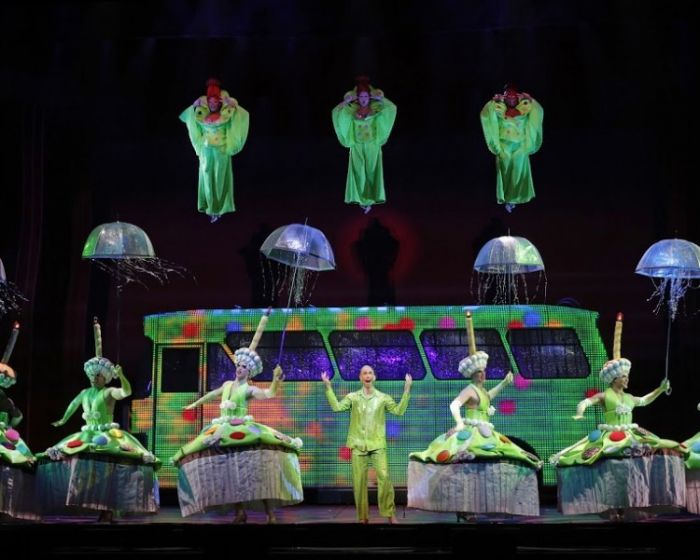 Margie Korshak Inc.
A full-size bus sliced in half with two barely-dressed drag queens and a trans-sexual cavorting inside, a giant, glittering silver high-heel placed on top and three lively ladies dangling high above on strings singing merrily together.
Incongruous as these things may seem, in the context of the musical, 'Priscilla, Queen of the Desert' playing at the Auditorium Theatre at Roosevelt University in downtown Chicago, they seem somehow quite normal.
What else can you expect when the storyline concerns the aforesaid trio in search of love and career success driving across the Australian outback from Sydney to Alice Springs to a gig in a casino with one of them keen to see his only son whom he hasn't seen in several years.   
This extravagant musical is but one of a multitude of diverse shows this historic and cavernous 4,200-seat theatre has hosted over the years. Designed by Dankmar Adler and Louis Sullivan, the auditorium opened in 1889  - while there, we saw a note on a pillar in the lobby apologizing for peeling paint adding that the paint was original. This three-tiered theatre is truly stunning with a high-vaulted, multi-arch ceiling and intricately decorative gold-leaf wings. Hundreds of Sullivan's beautifully restored intricate stencil patterns, ornate gilded and bas-relief designs can be seen, as well as the endless floor and wall mosaics and murals by Charles Holloway and Albert Fleury.
Here a host of world renown entertainers have strutted their stuff down through the years – Bruce Springsteen, the Grateful Dead, Elton John, the Alvin Ailey dance troupe and comedian Richard Pryor to name but a few, not to mention a wide range of musicals, plays and classic orchestral and operatic soirees, as well as important political meetings.
The Auditorium is considered to be one of the most important monuments in Chicago, the first theatre with electricity (bare light bulbs – among the first in any theater – are on prominent display). It also was the first major building created after the Chicago Fire. So impressive was it, the city was awarded the honor of hosting the 1893 Columbian Exposition – a ground-breaking world's fair that helped transform Chicago from a relative backwater to one of the leading cities in the world. Special 'behind the scenes' tours are now offered several times a week – a 'must' for any theatre lover. 
But back to Priscilla. It's a camp, ostentatious, over-the-top, humorous romp of an entertainment ride, a show laced with a multiplicity of 70s/80s musical numbers – many of them familiar, some past chart-toppers, including "It's Raining Men," "Finally" and "I Will Survive."
Add to this more creative costume changes than I've ever seen before – running the gamut from purple ostriches and multi-colored cockatoos to dancing cupcakes with candles on top and pink paint brushes - and you have quite a dazzling auditory and visual combination. It's no wonder designers Tim Chappel and Lizzy Gardiner won Academy and Tony Awards. The Chicago show is directed by Simon Phillips with Wade McCollum, Scott Willis and Bryan West in the three leading roles.
So, if you're in the mood for a frivolous flight of fancy with a touch of innocent sexual naughtiness added for good measure, 'Priscilla's the place for you  -that's the name of the bus in and around which most of the shenanigans take place, including a clash of culture with some local Aussie cowboys and a bartender over the ordering of a lime-flavored daiquiri.
The musical, based on a book by Allan Scott and Stephan Elliott, and a 1994 movie of the same name, helped bring issues surrounding homosexuality into mainstream thinking in Australia. In this regard, the musical is not without its serious moments, particularly linked to the less accepting attitudes of rural Australia in such towns as Coober Pedy, where the trio of friends are subjected to homophobic abuse and even violence, including having their tour bus vandalized. In contrast, when their tour bus breaks down in the middle of the desert, Bob, a friendly, middle-aged mechanic from a small outback town, joins them helping them on their journey.
For further information on the show, see www.PriscillaOnTour.com and for tours of the Auditorium Theatre at Roosevelt University, see http://auditoriumtheatre.org/wb/pages/home/education/historic-theatre-tours.php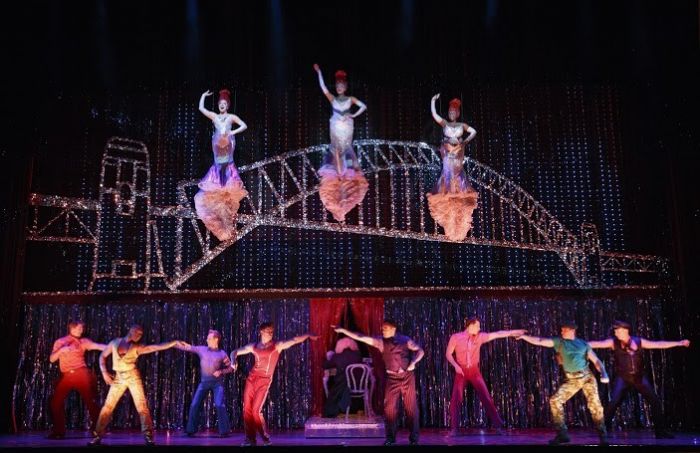 Margie Korshak Inc.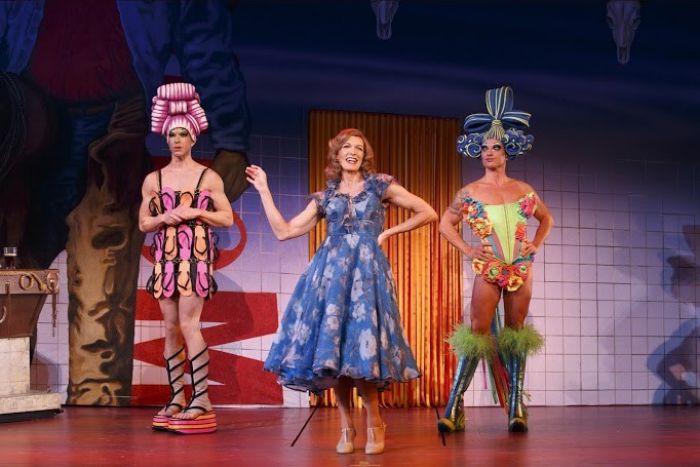 Margie Korshak Inc.