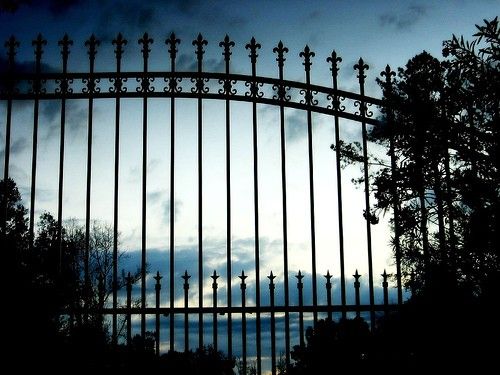 CC From Flickr
Gated communities, like any other commodity, vary in quality and services. Choosing a gated community is much like any other real estate purchase: you need to consider the neighborhood, the home and its landscape, community standards and, yes, even crime.
Wait, Crime?††††††††††††††††††††††††††††††††††
Safe living attracts many people to gated communities, but itís wise to remember that no community is crime-free. Security systems differ from community to community, and some are easier to slip into than others.
People living within the community may also commit crimes. Even though gated communities have lower than average crime rates, itís still advisable to check local records before making a commitment.
Age Matters
Gated communities tend to attract people with similar interests, values and economic standing. Age is also a factor. Someone approaching retirement may prefer the 55 communities Delaware hosts to a community of 20-somethings.
Location, Location, Location
Despite what many pundits believe, gated community residents donít spend all their time behind the community walls. We like to get out and about, so the location of the community is as important as the community itself.
Do you want a short commute to work? To be within walking distance of the nearest golf course, theater or beach? Are you willing to accept a longer commute for the quiet of country-life? Be sure your community is close to the amenities and necessities you need and love.
The Home Itself
This almost sounds silly, but in the rush to secure membership in a gated community, people sometimes overlook the most important factor: the house itself. Does the home meet your needs? Does it have all the amenities you need? (Remember, renovating may not be possible under the communityís terms and covenants).
Consider as well how much land you want, and whether or not the community provides landscaping and grounds-keeping services. Check the fees associated with water, garbage, security and other services. Do they seem reasonable compared to the quality of the house?
Meet the Neighbors
Try to meet some of the communityís current residents. Get a feel for the community culture, and ask plenty of questions about life in the neighborhood. If possible, attend some of the community meetings and social events. A community that welcomes potential members is a good sign.
Considering the Minutiae
What Iím about to suggest is the most boring aspect of choosing a gated community, but read over any applicable Covenants, Conditions and Restrictions (CC&Rs). You need to know exactly what the community does and does not allow. For instance, some communities forbid ownership of certain dog breeds. If you own such a dog, discovering he isnít welcome is an unpleasant surprise.
Finally, trust your instincts. No matter how beautiful a gated community is, if something in your heart or mind say no, itís best to keep looking. Youíll find the right fit eventually.