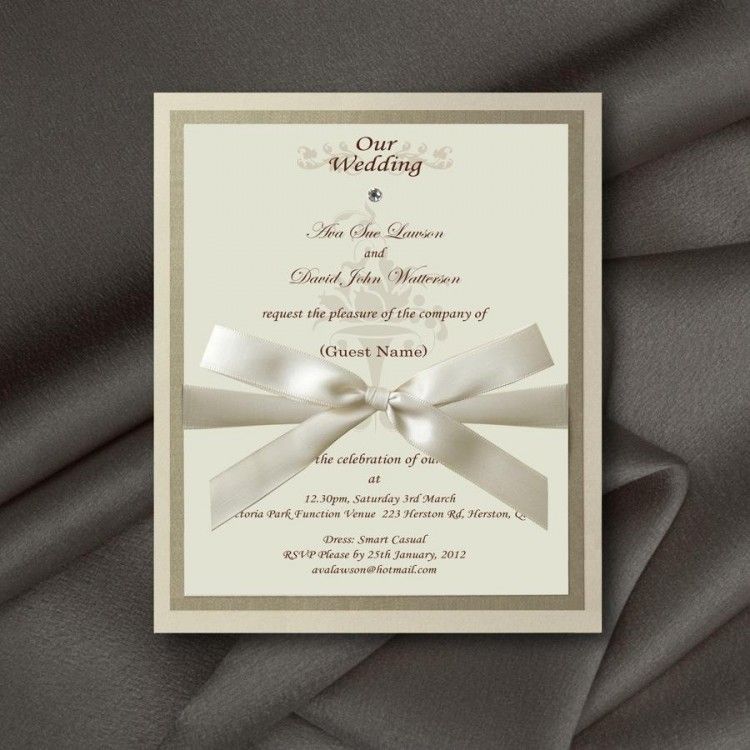 After being engaged the time has come to plan for the most important event of your life, your wedding. Though you might have planned about your wedding dress, theme and colors of your wedding but you might have forgot to plan and choose a suitable wedding invitation. Good wedding invitations are important part of the wedding arrangements through which you can invite your family and friends to enjoy the event and bless you at this auspicious occasion. A wedding invitation gives first impression of your choice and standard to the family and friends you are inviting on this occasion. You must choose a wedding invitation carefully so that it may reflect style and standard of your personality.
Choosing the color of wedding invitation
With the passage of time wedding invitations are experiencing considerable changes in various aspects like designs, size and colors. Invitations for wedding are available in a wide range of colors ranging from white, black, ivory, dark grey to trendy bright colors in multiple styles and designs. The wedding invitation you choose must match to your wedding theme and color to make it suitable to your wedding style. Color of the invitation can also be chosen according to the season on your wedding. A colorful wedding invitation can make it exciting for the invited family and friends.
Choosing the font style of wedding invitations
After choosing the style and color of your wedding invitations the second important thing that can make your invitation special is its printing font style. Your invitation message is delivered through the text written on it which makes the importance of font style more obvious. Usually wedding invitations are printed using a mixture of various font styles and sizes to make them more attractive and exciting for the invited guests. You can choose the font style as per your choice or consulting with your family and friends to make you wedding invitation more suitable and trendy. Several printers have their special invitation designers that can also help in choosing a suitable font style for your invitation. Moreover you should not use too much font styles in your invitation as it may make it repulsive instead of making it attractive. You should choose not more than two font styles for your wedding invitations as it can be more attractive and striking with minimum number of font styles.
Choosing the language of the wedding invitations
The last thing that is essential to make your wedding invitations suitable to your personality is the language used in conveying your message to you family and friends. You can use various styles in writing the language of the wedding invitation but the most suitable is your own speaking style which can reflect your personality and style in the invitation. If you have no idea to style the language of the invitation then you can rely upon the invitation designers of the printer as they are professional experienced for such type of works.
Thus, you can suitably choose unique wedding invitations that can reflect the personalities of bride and groom, the main characters of the occasion.