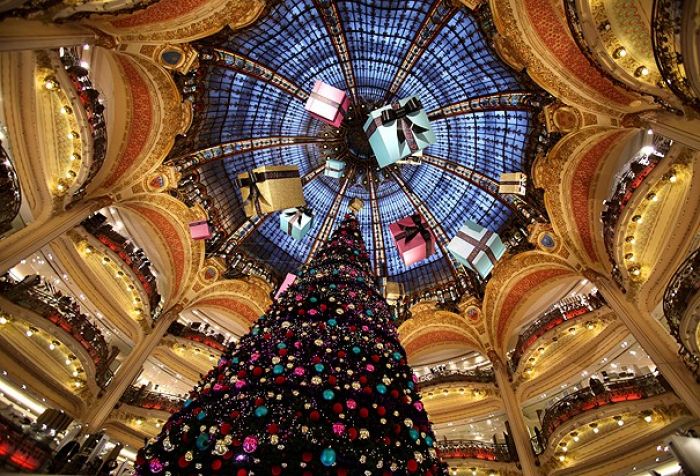 Take a leisurely stroll through the specialist shops of Paris adding little items for under the tree and the festive table.
When enthusiastically approached, a seasonal chore can become a real retail festive treat a la va va voom!
Francis Kurkdjian
The perfumier became an overnight sensation when, at aged 25, he created Le Mâle for Jean Paul Gaultier, and he's still regarded as one of the most influential "noses" of Paris. At his tiny boutique you'll find a dazzling array of scents, all significantly cheaper than back home: 70ml of Aqua Universalis, his most popular fragrance, costs €105. In Britain, it's £105. 5 Rue d'Alger, franciskurkdjian.com
Michel Cluizel
Cluizel, on Rue Saint-Honoré, is one of the few chocolatiers who actually turns raw cocoa beans into chocolate. He has worked directly with growers to create several "premier cru" chocolate bars (€4.60 each), which have their own distinct characteristics — such as the spicy, earthy undercurrents of Vila Gracinda, from Sao Tome, off the west coast of Africa. The perfect stocking-filler for chocoholics? You bet. 201 Rue Saint-Honoré, cluizel.com
Legrand Filles et Fils
This atmospheric, rather bookish wine shop behind the Banque de France usually stocks 25-30 marques of champagne, including several well-known labels, as well as all kinds of other interesting wines. If you can't decide between the Bollinger and something more esoteric, such as Emmanuel Brochet's Extra Brut, why not open a bottle in the wine bar at the back? They'll only charge you off-licence prices if you do. 1 Rue de la Banque caves-legrand.com
Mary Beyer
Glove-maker to Louis Vuitton, Lanvin and Balenciaga, Mary Beyer has a boutique in the 18th-century arcades of the Palais Royal. Gloves are made to order, using the finest leathers — python, kid, ostrich, mink. For those who can't wait, Dandy B3, an off-the-shelf pair of kid gloves with extravagant look-at-me cuffs, costs €189. 32-33 Galerie de Montpensier.
Getting there
You can travel to Paris from the UK on Eurostar but with the ever increasing number of scheduled flights from regional UK airports savvy shoppers will invest some time researching online to find the cheapest flights so they can have more money to spend on Christmas treats when they arrive in the French capital.

Epice
A few doors up from Mary Beyer is the showroom of Epice, whose scarves — gossamer-light creations in wool, cashmere and silk — have been the fashionista's favourite for a decade, with clever designs that allow you to twist in patches of contrasting colour and tone when you put them on. Prices start at €120. In London, you'll pay at least £120. 27-28 Galerie de Montpensier, epicedesign.com
Patrick Roger
The creations of this artiste chocolatier are all the rage in Paris. His chocolate ganache is dark, velvety and never dry, while the flavours — thyme and lemon, jasmine blossom, lime and caramel — are subtle and scintillating. Prices start at €24 a box. 108 Boulevard Saint-Germain, patrickroger.com
Melodies Graphiques
Awash with one-off shops and boutiques, Rue du Pont Louis-Philippe is a sliver of Marais style and culture that runs down to the Seine. Mélodies Graphiques — devoted to paper, pens and proper handwriting — is its defining moment. It's owned by a calligrapher who has thought of everything: leather-bound notebooks, exquisite writing paper, quills and, best of all, wax and monogrammed stamps for you to seal the envelopes on all your thank-you letters. The wax costs €4.50; stamps are €14. 10 Rue du Pont Louis-Philippe,
Coton Doux
The window display will stop you in your tracks, with the loudest shirts you'll ever set eyes on. Some designs are so wild, they could only be given as a practical joke, but there's some great party gear, too — plain white and blue, with jazzy reversible cuffs and collar linings. Prices start at €69. 37 Rue de Turenne, cotondoux.com
images: Shopping Information