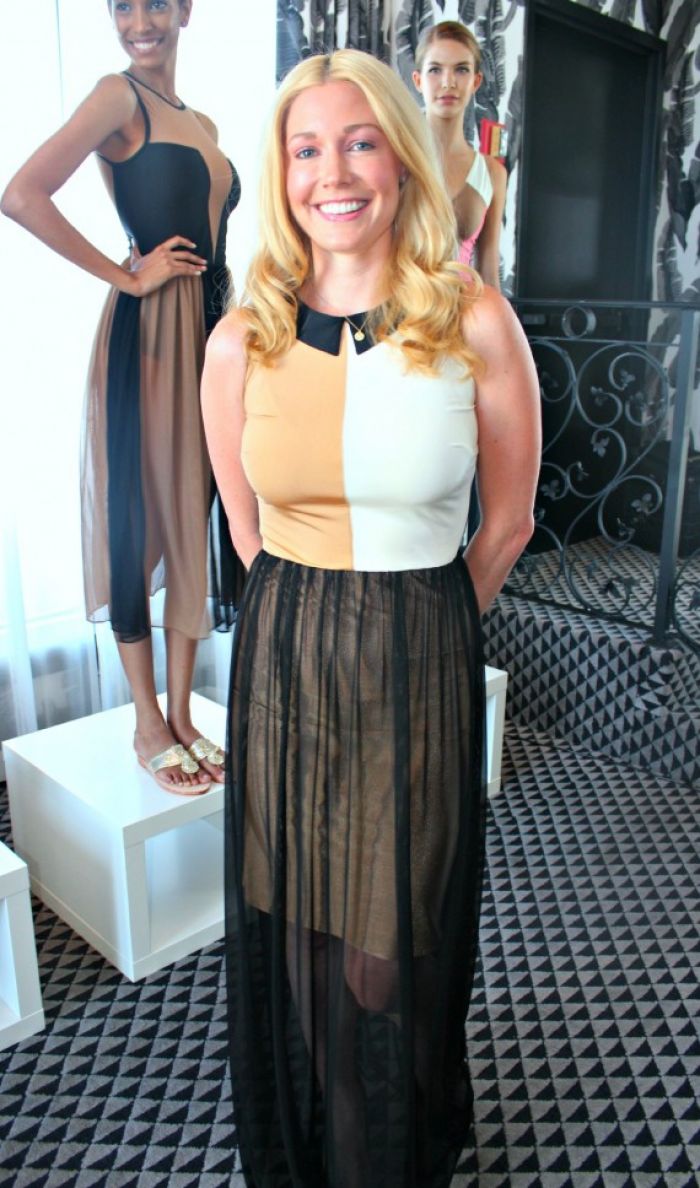 Ailyn Diaz
It might have been Oleg Cassini who perfected Grace Kelly´s look, but it is designer Kelly Carrington who has modernized it in an impeccable collection of elegant resort wear exalting the hourglass figure of the woman. Ms. Carrington is the founder and designer of Éclairée (French from enlightment). She is no stranger to swimwear being a Florida native and having traveled extensively as a model researching her line in exotic locations such as St. Tropez, Ibiza, Miami and Monaco. Throughout her travels, she has discovered an appreciation for geometric forms inspiring her use of colorblocking and lines to enhance a woman´s assets.
"I am inspired by art," said Ms. Carrington as she presented her line during the Mercedes-Benz Fashion Week Swim 2013 at the Penthouse of The Raleigh in Miami Beach on Friday, July 20, 2012. The designer wore one of her creations consisting of a sleeveless cream and white suit with a peter pan collar and a long black chiffon skirt. Her own personal style reflects the versatility of the resort collection. "With every piece I design, I try to focus on the cut and for it to be flattering to every body type."
Ms. Carrington, a former centerfold for a men´s magazine, dresses a woman who is confident and not afraid to stand out. She pointed to a swimsuit named Kiki and related that this is the type of one piece bathing suit that she would picture someone like Beyoncé wearing. The one piece suit consisted of linear vertical black broad stripes matched in the front with nude netting and a bottom with horizontal cream and white stripes.
Other standouts of the collection included scuba inspired athletic swimwear with a particular cinching of the waist with pink and black colorblocking. The skirts in cream and black were reminiscent of French lines such as Chanel and Céline. The line has had some immediate success in its sophomore year appearing on the pages of The Palm Beacher and on the online pages of Harpers Bazaar Swim 2012 review. The resort line can be found at eclairee.com and costs from $105 to $320. At this price range, it can bring out the inner Grace Kelly in all of us.
Ailyn Diaz
Noémi
Ailyn Diaz
Geneviéve and Pénélope
Ailyn Diaz
Nishira