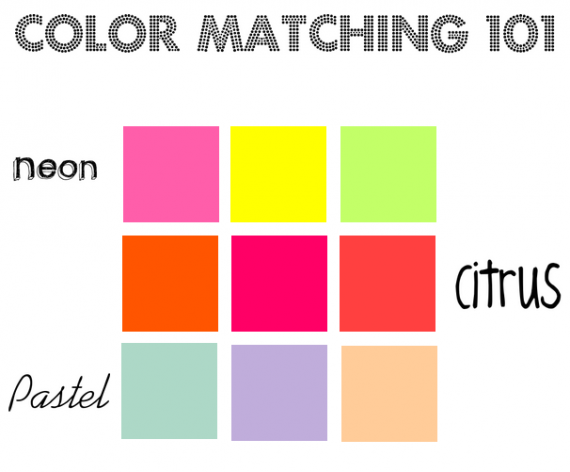 When it comes to mixing bold colors together, it can definitely take some confidence! While my wardrobe is full of basic colors and neutrals, I'm definitely drawn to and inspired by style that is FULL of color. While selecting outfits full of bright color, go back to your days in art class and remember the color wheel. When it comes to color combinations, piecing together an outfit can be more calculated than you think. Color theory is everywhere in design! Go for color schemes that you'd find on a color wheel and you can't go wrong. These combinations are all "art-approved."
Analogous:Example: Olive and Lemon or Lavendar and Navy. An analogous color scheme means the colors are right next to each other on the color wheel. Choose analogous colors that vary in tone to pull this look off.
Complementary:Example: Blue and Orange or Red and Mint.Complementary colors live across from each other on the color wheel, evenly spaced apart. They're great for creating a colorblock look or creating a contrasting pop. The great thing about the red and mint combo is, it gets away from that Christmas color look because the minty green is much softer.
Mono:Example: Magenta and Purple. Monochromatic colors are all the shades and tones of one color hue. It's an easy one to pull off -- varying shades look great together. While the Magenta and Purple hues in the photo provide more of a contrast, they technically have the same deep hues.

More Color Mixing Inspiration:


Triad:Example: Blue, Red, and Yellow. Triad colors are three colors equally spaced on the color wheel. Use small pops of triad colors through accessories, or use softer hues to lighten them up.
Neutrals:Example: Ivory, Nude, Beige, and Grey. When it comes to wearing neutrals, it's important to pick up the undertones. If the grey you're wearing has cool undertones, wear it with blues instead of reds.

For more great inspiration on how to mix colors, mix patterns, and dress with the fierceness of a fashion blogger, check out this Guide to Style for Beginners with tips on everything from selecting the right handbag to wearing leopard print and polka dots.