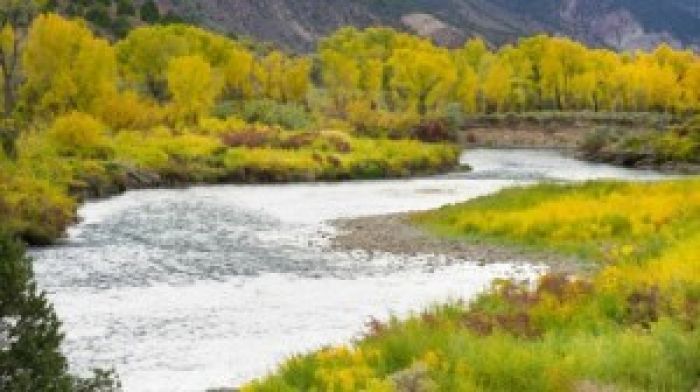 http://eagleoutside.com
When we think of luxury usually what comes to mind are first class flight seats, high end spa resorts, an entire group of highly efficient support staff taking care of all your needs and wishes. In essence luxury is always associated with materialistic opulence, economic abundance and something that cannot be obtained easily or by all. This is the well accepted meaning of luxury but in some sense it seems to be only half a meaning as this implies man made luxury.
There is another form of luxury, something which is already quite rare and rapidly receding from the face of the earth, what I am trying to hint at is the luxury of untainted natural beauty of this world. There are very few places left today which can boast of vast stretches of beautiful natural topography without any man made interruptions. Out of this handful of places Colorado is US's own piece of nature lover's heaven. This state holds natural beauty in all forms- land, water, air and animated form.
Colorado
The state of the fittest people in a nation struggling to overcome, Colorado is a natural beauty. The rolling mountains, pristine clear lakes, remarkable indigenous flora and fauna along with air so clean and crisp, that your city smog reared unhappy lungs won't believe their own good luck. The natural terrain also facilitates indulging in certain athletic activities (individual and group) whose authentic experience is not always possible everywhere. Some of the most popular activities you can find in Colorado are
· Skiing
· Snowboarding
· Fishing
· Camping
· Hiking
· Scenic driving
· Mountain Biking
Skiing and snowboarding are great winter activities, but now since the weather is thawing it is best to focus on the summer activities.
Family biking Colorado
One of the top items on a Colorado to do list is Mountain biking. A high adrenaline and energy sport, it is a great way to experience the place in its truest sense and also to get into shape. Travellers from around the globe have visited Colorado to hit its mountain biking trails specifically. This great sport is, however, perceived to be on the riskier side for young children, and thus families accompanied by the same pass over it when in Colorado. However, it is not necessary to abstain from this sport if you are here with your family, there are a few trails maintained in the state which are designed for families; in fact the good people of Colorado can start an entire new sport called Family Biking Colorado.
Trails like the haymaker one in Eagle or the Waterton canyon one, are gentler and safer, thus aimed for those who need to take extra caution on their journey. Once the younger members of your family are up to pace with the rest of the pack, you can start exploring other more challenging trails. When tired you can also stop and observe the striking scenic beauty of the region. To round off the entire experience in an even memorable manner, end your day camping under the stars with your loved ones.
Colorado is a state which will truly spoil your senses silly with its unparalleled beauty and activities. So if you want to immerse yourself in luxury the natural way, visit Colorado.