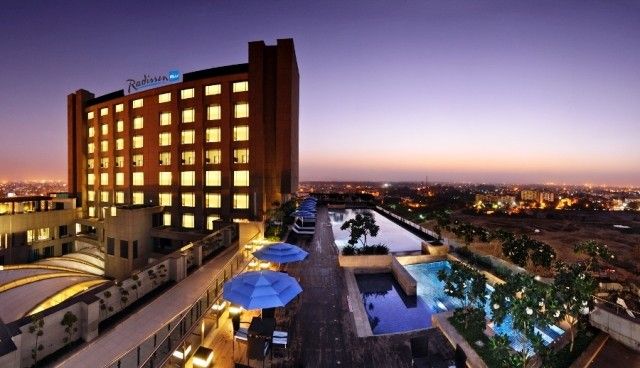 Radisson Hotel is a business hotel, decorated in perfect business style, located in every business districts of Delhi. This hotel has gained lots of attention of many business travelers to Delhi, for business making, or kind of business related purpose. Hotel offers a convenient rates and tariff, for travelers to pay and easily afford. Rooms and suites of hotel are well accomplished for business travelers and leisure travelers too. This group of hotels is all over in profound area of Delhi.
Address: Radisson Blu Marina Hotel,
G-59,Cannaught circus, New Delhi.
Radisson Blu Plaza
Near Mahipalpur extn.
New Delhi.
Radisson Blu Hotel
Plot No. D, District center,
Outer Ring Road, Paschim Vihar,
New Delhi.
Radisson Blu Hotel, Noida
L-2 sector 18, Noida
Uttar Pradesh – 201 301.
Radisson Blu Hotel
Plot 4. Dwarka city centre,
Sector 13, Dwarka,
New Delhi.
Radisson Blu Hotel, Ghaziabad
H – 3, Sector – 14,
Kaushambi, Ghaziabad,
Uttar Pradesh. 201010.
Radisson Blu Sites Gurgaon
B Block, Sushant Lok,
Phase 1, Gurgaon,
Haryana 122022.
Radisson Blu Hotel Greater Noida
C-8, Site iv, 2ndcross ave road,
Kasana, Gautam Buddha Nagar,
Greater Noida – 201 306.
Accommodation: rooms and suites of these hotels provide a delightful stay, furnished with all luxury and comfort. These hotels are decorated and furnished in business style, but is best one for leisure travelers too. Rooms and suites are categorized according to its amenities and services provided in varying rates and tariffs. Tariffs also changes in seasons. Family rooms are separately available.
· 24hr room service
· Well stocked mini bar
· Internet access
· Direct phone call
· Individual temperature control
Restaurants: taste from all corners and ethnic culture of world has been collected and put up in a form of multi cuisine restaurants. All these restaurants provide a lip smacking tasty dishes, prepared by master chefs. Bar gives a delightful time while you are on a venture of drink course. A good brand of liquors are collected and put up in a well stocked manner.
Meetings and events: all arranged business meetings, conferences, and social events, attains a good mark form clients. A fine seating capacity meeting rooms, conference halls, and banquet halls are available in hotel. All events are well planned by professional planners and arranges a satisfactory and appreciable arrangements.
Activities: a full time course Spa, health club, and many other recreation activity centers are available in each hotel building of Radisson blu. Outdoor games and swimming pools are also most enjoyable during your stay in hotel.
Facility: facilities provided in Hotel are as:-
· Travel desk
· Laundry service
· Business centre
· Doctor on call
· Money changer
High speed internet facility
Radisson Blu Hotel Greater Noida
Radisson Hotel New Delhi
Business Meeting in Hotel
Spa in Radisson Hotel