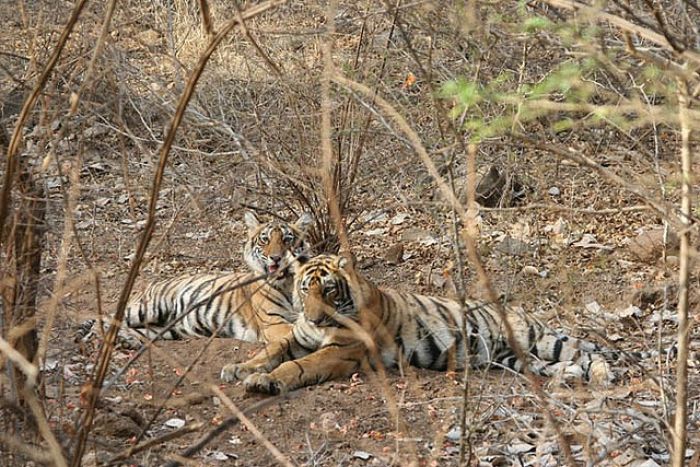 Corbett National Park is the first choice and a hit among nature and wildlife enthusiasts. Folks from all over the world visit this destination with their family, groups and friends to experience the ultimate lifestyle of the wild creatures in their natural habitat. The park has been in the talks ever since its origin and why wouldn't it be as it is India's first national park. Covering an area of 1318.54 sq km, Jim Corbett tenders a vast array of thrilling opportunities to add enthusiasm facet in your tour. Tranquil environment, lush greenery, immaculate forest, expressively muttering wild species wandering in the jungle, all these beauties are set to make your wildlife tour in Corbett national park the charismatic and remarkable of life.
Reaching there
It is well connected with the major cities of India like Lucknow, Agra, Jaipur, Chandigarh and Delhi, which is 180 miles away. A few hours drive can bring you into the world full of breathtaking and audacious experiences.
The nearby airport to reach the wildlife refuge is situated at Phoolbagh in Patnagar.Travelers can access the sanctuary in 2 hours by car or taxi from the domestic airport. Whereas the nearest railway station to reach the Corbett national park is Ramnagar. Besides, travelers can also make use of the private buses or taxis to reach the destination.
Attractions in Corbett national park
The main attraction of Jim Corbett national park is the assorted and exclusive flora and fauna. Residence to Bengal tigers, this credit goes to Jim Corbett (British hunter) who had done so much to protect the tigers' poaching and killing. Other wild creatures, you can spot in the park are leopard, sloath beer, elephants, jackal, leopards and so on. Through safaris, you can have glimpses of the wildlife species and experience the tour much more adventurously. Some of the safaris relished by the tourists in the forest reserve are:
Jeep Safari
Explore the true wilderness and wildlife experience on the jeep with trained drivers who have an authorization to take you through the distinct gates of Corbett national park. It takes you to the deeper sides of the jungle and lets you rendezvous with a sundry diversity of wildlife species. Moreover, few folks get a chance to sight a tiger.
Elephant safari
Don't give a miss to elephant safari, when in Corbett national park as it makes you acquainted with the  various creatures from a close distance and the best part is no other vehicle can go there where elephant can. So, get ready to experience the elephant ride by sitting on its back like royal people.
Attractions around Corbett
Once you are in Corbett national park, obviously you would love to scout the other famous attractions nearby the destination. These are as follows:
·         Corbett Museum
·         Garjia Devi Temple
·         Sunrise point
·         Corbett Waterfalls
·         Naini Lake
Apart from the exhilarating activities and beautiful attractions, Corbett also offers a superb accommodation for those who wish to stay connected with wildlife exquisiteness and charming flora and fauna. There is a huge list of the resorts situated on the edge of the national park with beautiful surroundings, top notch facilities and services and charming hospitality. Few of the renowned Corbett resorts are:
·         Corbett leela villas
·         Solluna resort
·         The wild crest resort
·         Infinity Resort
·         Country Inn Treetops Resort
There are many other stupendous opportunities, which you can enjoy in the Corbett national park invoking you to visit there in next to no time. So, get up and move out for this adventurous trip for wholesome and mind-blowing experiences.
Corbett National Park Map
Vijay Anand
Corbett Birding
Elephant Safari @ Corbett