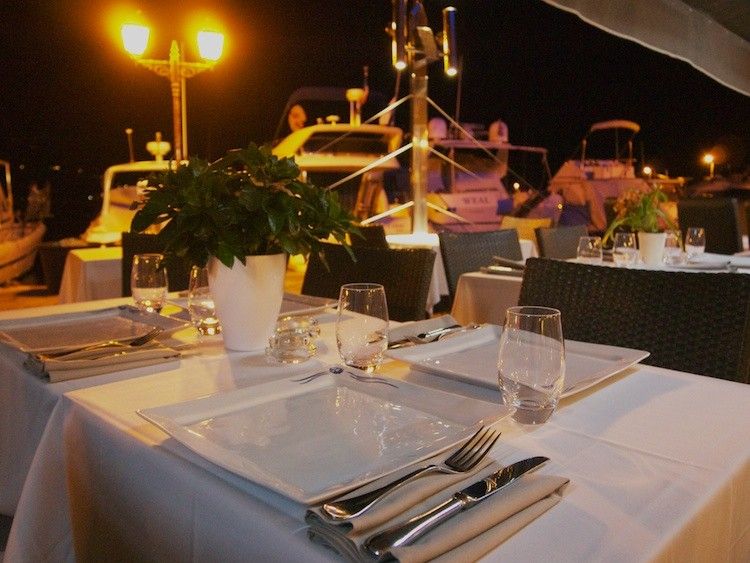 Columbia Hillen
'Poseidon' pulled hard on her mooring ropes a mere ten yards from the open terrace of La Gaffe – clear evidence that fish served at the restaurant in the picturesque Corsican coastal town of Saint Florent couldn't be much fresher.
It's something owner, Christophe Chiorboli, 38, is extremely proud of.
"All the seafood we serve here comes in on that boat," he said, smiling. "That way we know the quality of what we get and exactly where it's from."
La Gaffe (meaning 'boat hook'), located in the Port du Plaisance harbor of Saint Florent, is one of a series of restaurants lining the walkway beside which leisure yachts and fishing boats bob gently in the water. It has an outside wooden deck with woven cane-backed chairs, curved standing lamps and an overhanging chocolate brown canvas awning with floor-to-ceiling glass frontage separating it from the restaurant's chic interior.
Christophe, who opened La Gaffe six months ago and a sushi and wine lounge next door to it, acknowledges being a restaurateur is in his blood. "I guess it's my DNA inheritance. My parents, Nanou and Virgile, ran a restaurant, called 'La Tabla Oletta,' for many years in a nearby village so I gained a lot of experience there."
The interior of La Gaffe reflects a simple nautical theme with porthole-style mirrors on varnished wood walls, framed posters and a beige tiled floor. Interestingly, an old plain tree right in the middle of the restaurant, its trunk encased in glass, its foliage sheltering the roof, divides the restaurant into quadrants.
We left the menu choice in the capable hands of Christophe who promptly returned to our table with a starter ofbotargo (salted, cured fish roe) served on freshly baked bread.Still full from lunch, my companion opted for the salad and was delighted when a plate emerged from the kitchen featuring six different types of tomatoes (her favorite vegetable, or is it a fruit?), with an accompaniment of tomato pesto, hazelnuts and pimento –culinary genius cradled in the arms of simplicity.
Our starters were followed by a sumptuous serving of bouillabaisse, that old traditional Provence-based favorite. This was a meal onto itself with generous portions of langoustine, tuna, shrimps, mussels and cockles in a thick, smooth, flavorsome soup. Christophe suggested a glass of the local Vermontino, a 2011 Nicolas Mariotti Bindi Pastoreccie Patrimonio. It was a wonderful suggestion.
Remaining with seafood, my main dish consisted of threeDenti fish (a family of sea bream), slightly pan-fried and served with young turnips cookedin a French pot and dressed with a vinaigrette of cep mushrooms.
My companion stuck to her vegetarian stance and enjoyed a risotto of wild mushrooms and pumpkin, with a buttery Parmesan flavor.
Dessert was not to be avoided, especially as it included Corsican Le Fiadone, a sort of pudding made with Brocciu cheese and served hot with myrtle-flavored ice-cream. Even though it was yummy and enough to satisfy any hungry man, I still dipped deftly into my companion's dessert also - a 'pain perdu' with citrus peel, a crisp crust and a moist, soft interior, decorated with poached figs and accompanied by fig sorbet. Double yummy.
It should also be noted, especially for the less sweet-toothed, La Gaffe is a cheese lovers' heaven with a selection of ten different ones on offer.
Aside from the dishes we enjoyed, a full-range menu is available with entrees also including Isignyoysters from Normandy and foie gras and main dishes such as pigeon, beef, langoustine and piglet.
Full credit goes to the Polish twosome - chef, Marcin Wisla and pastry chef, Marcin Kucinski for their skill and creativity.
For further information, see http://www.restaurant-saint-florent.com/
Columbia Hillen
Columbia Hillen
Columbia Hillen
Columbia Hillen
Columbia Hillen
Columbia Hillen
Columbia Hillen
Columbia Hillen
Columbia Hillen