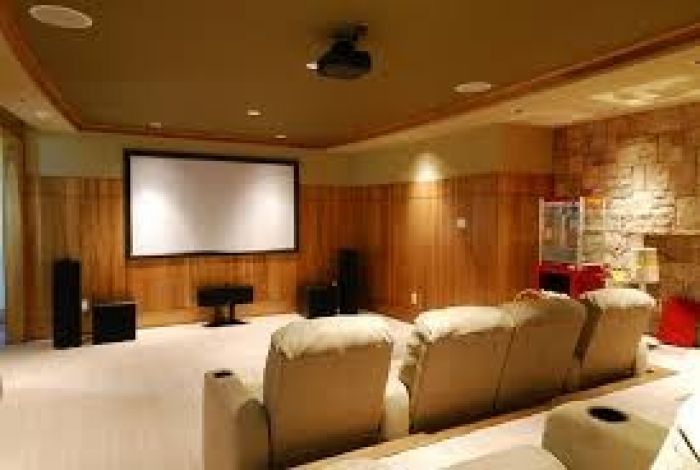 Home theater rooms
The crowd falls silent. The only sounds that can be heard are the hushed sounds of people reaching into their popcorn bowls or taking a sip from their beverage of choice. The opening credits role and movie magic begins. Imagine a different scenario. Fans gather in colors of their favorite teams. They are loud and rambunctious awaiting the intensity of the big game. Snacks are freely passed; beverages are consumed. These two events have taken place in the same area – your brand new home theater room; a room which can easily be created with pieces from the collection of Habersham Furniture.
Habersham Furniture has beautiful pieces of quality designed furniture for all your decorating needs. In this case, your home theater room might require a variety of accent pieces to make it complete. Every luxury seat should have its own table for the placement of snacks and drinks. To this end, Habersham offers a variety of coffee tables, cocktail tables, accent tables, or end tables to choose from which to choose. All of their furniture comes in a variety of styles, colors and woods.
Along with people having a place to put their drinks, the host and/or hostess will need a location from which to serve the variety of snacks that are offered. Habersham has a few pieces that will fulfill this need, mainly their beautiful sideboards and buffet centers. They are long enough to hold a variety of snacks and they even have storage to hold the game day or movie paraphernalia when not in use.
The focal point of any home theater room is, of course, the entertainment center and Habersham Furniture offers a beautiful selection of entertainment centers that are designed with quality and luxury in mind. Paying careful attention to the creation of media centers that are both functional and architecturally stylish, they have one that will fit any style of décor. Habersham entertainment centers give you the choice of a center unit which can be closed off, much like an armoire, to hide your television when not in use, the more ornate media centers with bookcases for storage on either side of the center unit, and wall units that hide the television away seamlessly, only to be displayed with the flick of a switch as the TV magically ascends or part of the unit descends to reveal the hidden TV underneath.
Home theater rooms can be an elegant addition to your home, a gathering spot for family and friends. They are an oasis, a place to relax and escape the stress of the every day. Habersham Furniture, which can be found at Boyles Furniture and Rugs, will help you complete your home theater room with style and elegance.
Home theater rooms
Home theater rooms