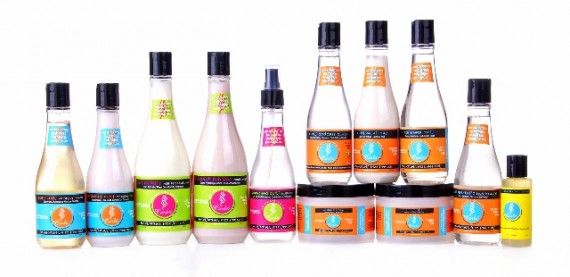 CURLS
Curls, a leader in the natural curly hair care industry, is now offering women a chance to give their hair a "happy hour." That happy hour comes by way of their new cocktail line of hair care products, each formulated to address a different issue that those with naturally curly hair may experience.
"Our curly hair cocktails are just what women have been wanting and needing," said Mahisha Dellinger, founder and CEO of CURLS, a company specializing in organic hair-care products for naturally curly hair. "They can truly help people be the life of the party. This is one happy hour that leaves you feeling and looking great."
The Curls line of cocktails comes in such varieties as Coconut Sublime Conditioner, Curl Ecstasy Hair Tea Deep Conditioner, Cashmere Curls, Curls Milkshake, Curls Goddess Glaze, and Champagne and Caviar Curl Elixir. They are also available in kits, such as the Transitioning Diva Kit, the Active Woman on the Go Kit, and Curls Custom Cocktail Kit.
All Curls products have been created with certified organic ingredients, as well as exotic oils hand-pressed in Bali. They contain natural oils, such as aloe leaf juice, panthenol, mango, shea butter, and murmur butter. Each of the cleansers, conditioners, and moisturizers in the five varieties of cocktails has been designed to give naturally curly hair, especially ethnic hair, a more natural and beautiful look, as well as to help replenish it, so that hair doesn't feel dried out or look frizzy.
"With happy hour, there is really no reason ever to have dull, frizzy or fried curly hair again," added Dellinger. "Our cocktails will help you avoid those issues, and can correct them if they are already there. That way, you can party, and do everything else, knowing your curls look and feel their best."
The award-winning Curls line features all-natural, organic products that are aimed at the multi-cultural and ethnic market. The line includes products specifically designed for women, kids and babies, including shampoos, cleansers, conditioners, curl cream, lotions, elixirs, gels, and more. The products have been derived from certified organic ingredients and exotic oils. Along with being available in over 3,000 salons worldwide, the products are also available at such stores as Target, Walmart, Walgreens, Rite Aid, CVS, and Sally's. For more information about the Curls product line, visit the site at: http://www.curls.biz.
__________
More about rock star hair.