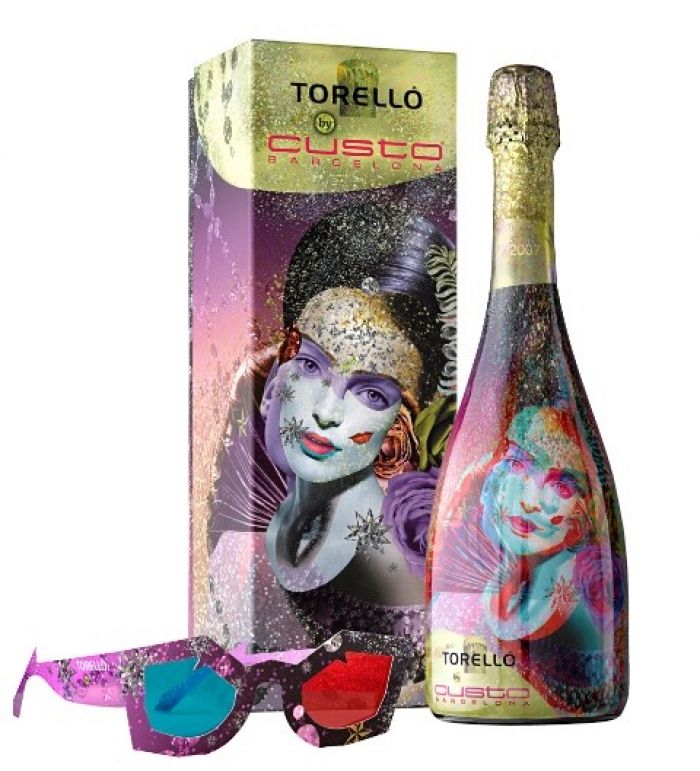 Cavas Torelló
Custo Barcelona - the whimsical, urban Catalan fashion brand - has designed a fashionable 3-D label and box to commemorate the release of a limited edition Grand Reserve Brut Cava.This dynamic new bubbly is produced by the distinguished cava maker,Cavas Torelló.

Set to be presented to the public on the 26th of March at Barcelona's premiere food fair, Alimentaria, only 10,000 of these unique bottles have been produced. Custo's inspiration for for this new label – the second one designed for this particular cava house – is said to tribute the "glorious experience one feels when aromatic bubbles are released; colorful, glamorous and embodied in the shape of a woman with dreams of joyful living".

This second edition cava is made entirely from the local grape variety Xarel.lo which went through a number of straining processes before aging for at least 30 months in the cellars of the family-owned 14th century farmhouse, Can Marti. The vintage of the grapes is from 2007 - a formidable harvesting year for local winemakers – giving Torelló high hopes that this particular edition will be as well received as the first. In 2011, the previous production won a number of awards and accolades including an impressive 92 points from Mr. Robert Parker himself.

The Torelló family has been proudly producing quality cava and wines in the picturesque Penédes wine region since 1395. Located between the Mediterranean Sea and the scenic Montserrat Mountains, the property enjoys and advantageous micro-climate perfectly suited for cultivating their high-quality products.

 
Custo Barcelona was born in the 1980's as the brainchild of brother duo: Custo and David Dalmau. Since its creation, this magnetic brand has become synonymous with the colorful culture, philosophy, and lifestyle of the vibrant Catalan city it hails from. It has been reported that the designers original inspiration came from their many travels and obsessive study of landscapes and cultural art around the world.