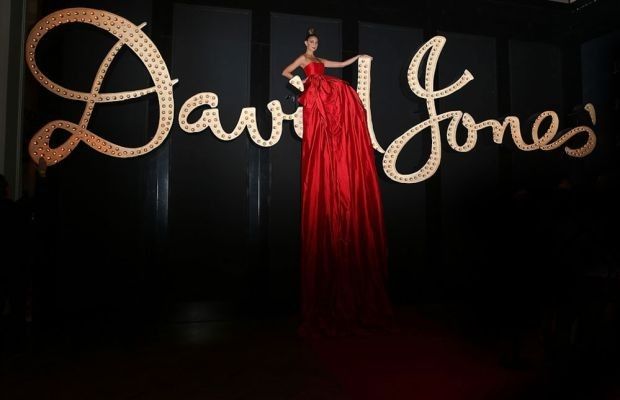 courtesy David Jones
by Vicki Arkoff
SYDNEY, AUSTRALIA: Leave it to a dashing Australian man to be so alluring at the age of 175. That's how old David Jones is – aka "DJs," the high-fashion department store mecca with approximately 40 locations across Australia – which makes it the oldest store in the world to still be trading under its original name.
What better excuse is there for a stylish blowout?  David Jones' 175th birthday was the perfect occasion for Australia's first major fashion event of the year. The David Jones Autumn/Winter 2013 show was held February 6 in the elegant On Seven ballroom of DJ's Sydney flagship on Elizabeth Street. Under 28 crystal chandeliers, in front of VIPs seated in 369 Philippe Starck Louis Ghost chairs, models prowled the catwalk in highlights from store's uniquely Australian collections. 
Star brands include labels from Akin (Ginger & Smart), Camilla and Marc, Collette Dinnigan, Easton Pearson, Josh Goot, Carl Kapp, Romance Was Born, Scanlan & Theodore, Thurley, Willow, Carla Zampatti, and Zimermann. Debuting with David Jones are new Aussie designers Megan Irwin, Rachel Gilbert, Louise can de Vorst, Gabby Westbrook-Patrick, and Nicola Walsh, and the knitwear brand Banjo & Matilda. David Jones' spokes-model Miranda Kerr led the model parade, which also featured Aussie supermodels Jordan and Zac Stenmark, Jessica Gomes, Samantha Harris and Jack Vanderhart.
Designer Kym Ellery made her presence felt with the debut of her Ellery line for DJ, after causing a legal catfight when she left DJ's rival store, Myers. But no one is more important at the moment than Dion Lee, the biggest name in Australian fashion. His AW13 "Transit" collection of sleek knits with futuristic graphics and laser-cut leather earned him recognition as a finalist for the International Woolmark Prize during London Fashion Week 2013. Fittingly, the David Jones show closed with Kerr wearing Dion's AW13 black leather mini-dress (AUD $3500), a crowd favorite.  The bi-annual David Jones runway shows are reliably among Australia's fashion highlights, so mark your calendars for the Autumn/Winter show held every January, and the Spring/Summer show in August. 
View the event live stream here, plus model tryouts and new label launches:  https://blog.davidjones.com.au/Fashion/2013/02/LiveStreamReel
courtesy David Jones
David Jones since 1938
courtesy David Jones
Autum/Winter 2013 runway
courtesy David Jones
175th celebration finale with Dion Lee & Miranda Kerr
courtesy David Jones
David Jones flagship, Sydney