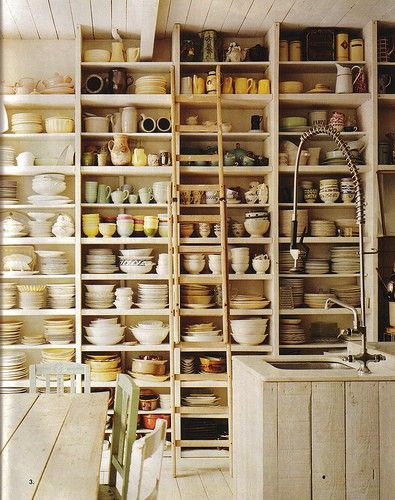 Ooh_Food on Flickr
Over the last few years, kitchen designers have tended to favour minimalist looks with clean lines, plenty of chrome fixings and the shiniest of countertops. The atmosphere that such kitchens create can at times feel cold – almost clinical – and definitely not like a space where guests can feel truly at home.
However, times are changing. More and more of us fancy ourselves as the next Jamie Oliver or Mary Berry, and so many interior designers are finding that their clients are favouring a more cosy and relaxed look for their kitchen interiors.
The backdrop of a casual country kitchen is the ideal setting for showing off newly acquired culinary skills as you host those family dinners and impromptu dinner parties. So without further ado, here's how you can achieve this relaxed look in your home...
Wooden Countertops
Granite countertops, although beautiful, are now becoming a bit ubiquitous – everybody wants granite countertops these days. So for those of us who don't want to follow the pack, Wenge wood countertops offer a great alternative. Wooden countertops create a traditional farmhouse feel, as do countertops made from basalt, limestone and other reclaimed materials. So when you're picking your countertops, don't hesitate to think outside the box.
Open Plan
Open plan kitchen/diners are hardly a new interior design concept, but their popularity has risen in recent times. Many people are coming to realise that their formal dining rooms don't tend to see much use. Thus, people figure that if they open up their kitchen space to incorporate the two traditionally separate rooms as one, then they can create a spacious family-bistro style space – a place where they can spend the whole evening without having to traipse from room to room as the night wears on.
Masses of Counter Space
Going along with the family-bistro style theme, incorporate as much counter space as you can because you will definitely make use of it. Kitchen gadgetry is taking off at the moment with appliances that can turn themselves on before you've even got out of bed in the morning, make your coffee just how you like it, and turn off afterward. Surely such a vital piece of machinery is deserving of a spot on your counter? The bistro-style kitchen concept also incorporates plenty of space for other gadgets such as laptops and music speakers that will come in handy when you and your guests feel like kicking back and staying in the kitchen for a few more hours.
Subdued Colours
Many modern kitchen unit styles come in vivid, bold colours such as red, jet black, or even neon yellow. But these hues can be hard on the eyes and aren't exactly welcoming. A subdued colour palette in the kitchen creates a much more relaxing atmosphere. For example tans, whites, creams, and light greys are great neutral shades to use on walls and flooring. For contrast, the teal on these kitchen cabinets looks stunning and works in harmony with the tone of the wood and metal fixtures.
Open Shelving
Open kitchen shelving offers a more casual appearance and allows you easy access to your pots and pans. You can either buy open shelving in place of cabinets or simply remove the doors from your existing cabinets to artfully rearrange the contents yourself. Open shelving allows you to display your favourite tableware for all to see and it makes a smaller kitchen appear bigger.
Subway Tile
Glazed, white ceramic tiles are knows as Subway Tile because they are commonly found on the walls of the New York subway system. This traditional look will work well with the cosy farmhouse feel you're trying to create and they can also make your kitchen space look larger. For contrast, you can set your white subway tile in dark grout. As an added bonus, it's a look that's original and a lot easier to clean.
Natural Textures
When it comes to soft furnishings and furniture items for your cosy new country kitchen, it's got to be natural textures and patterns all round. Botanical prints in subdued green, cream, and yellow shades work brilliantly for kitchen blinds and curtains and an oak dining table with bench seating creates a casual and social dining experience, where everybody can squeeze around the table together.
So there you have it, décor ideas for a cosy country kitchen. If you have any more top tips, leave them in the comments below.
Ooh_Food on Flickr
Kitchen Island
Ooh_Food on Flickr
Grey Brick Wall