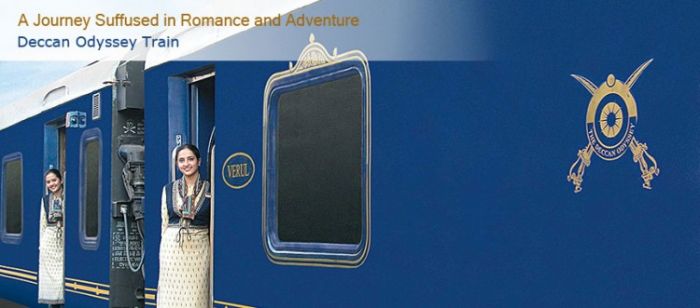 Popular Indian luxury train, The Deccan Odyssey, is scheduled for a single departures this December. The month's only journey has been planned around Christmas, i.e. 19th this month. The departures have been well timed, to accommodate both the Christmas celebrations during its course. The Deccan Odyssey is well known as a benchmark in luxury travel and has recently been decorated with several international awards for excellence in luxury.
Another reason for the train's resounding success is believed to be the well chalked out itineraries that let guests explore the sights and sounds of India. The train comes loaded with features for ensuring maximum comfort and convenience for its guests. Deccan Odyssey offers services such as Spa and Gym, Electronic Safe, Individual Climate Control for each cabin, Public Address system, Wi-Fi and dedicated services of a personal attendant.
This year, Deccan Odyssey is believed to have attracted a major chunk for foreign guests. It is important to note that there is a high chance that tickets for the Christmas' journey may be booked out a couple of weeks in advance.
About the Company :
Indian Holiday Private Limited®, a National Tourism Award winning company recognized by Ministry of Tourism, Government of India, offers booking for Deccan Odyssey Train. You can rely on us as a trusted resource with 22 years of domain experience. We are also associated with travel bodies IATO, PATA, ASTA and IMTA.
Contact Details :
Rakesh Agrawal
70, L.G.F, World Trade Centre
Barakhamba Lane, New Delhi-110001
Tel: 91-11-4777 3434,
Mobile Num - 9811204347
Fax: 91-11-4777 3400
Email Id : query@deccan-odyssey-india.com
Website : http://www.deccan-odyssey-india.com