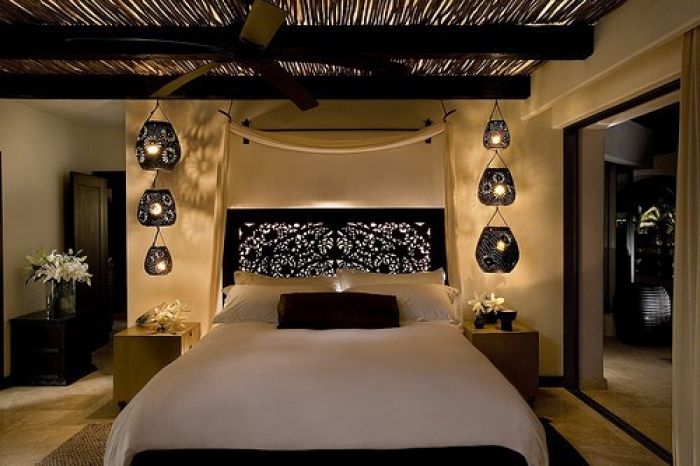 http://api.viglink.com/api/cli
It goes without saying that a bedroom should be a comfortable environment, since it is the room in which we go to relax. However, the bedroom is also the most intimate room in the house and lending personal touches and inspired furnishings can really help to create a romantic space for yourself and your partner.
Key colours
The colours that work well in the bedroom are often muted shades such as soft roses and tranquil greens, which certainly make a good base for building a romantic atmosphere. But you don't have to stop at pastels; neutral walls can give you freedom to introduce an accent colour or two, like a rich maroon for the curtains, or a more dynamic shade on one wall or on the bed covers.
Soft furnishings are also handy to introduce colour without overwhelming the décor. Cushions and throws on the bed can work well in rich colours like turquoise or cerise, whilst softening the edges of a room at the same time.
Patterns can create romantic interest, with many variations and themes to build around. Think bold monochrome florals, for a look which is both sensual and modern. Alternatively, you might want to take inspiration from a particular period in history and go for some Victoriana on your walls, or look at other countries for ideas, like an Italian Baroque drama or French Rococo scrolls.
Furniture can pick up on these sorts of themes as well; try raiding second-hand and antique shops for individual pieces that will make up a more individual bedroom. Sets can lend a feeling of completeness to a room, but anything too cold or contemporary can threaten to spoil the mood. It might be an idea to go for natural materials like wood rather than metals or plastic.
Individual interests
Personal touches are very important, whether you're in a relationship or not. Mount framed photographs on the wall or dressers, stick up prints and paintings you like or display any keepsakes you may have collected in interesting ways.
In terms of romance in the bedroom, lighting is very important. Candles and scented burners are great for setting a mood, but permanent ceiling lights and wall lamps can also work if chosen well. Dimmer switches are naturally a good idea and think about types of shade too; translucent coloured shades can make a room glow any hue you choose, which also means you can adjust the mood to suit you.
Accessorising the bedroom with things like free-standing lamps, ornaments and decorative mirrors can do much to make it more sensual. Flowers – whether fresh or dried – can really put the effort into a romantic space, as well as lending a pleasant scent.
Feminine ideas like these are great but it's also good to chat to a partner about things that you both like in a room. Tokens and gifts you have exchanged could be on show, along with items that reflect both of your interests, such as books or artwork.
The bottom line with romantic bedroom furnishing is personality. What works for one individual or couple will not necessarily make another happy. Anything from a few well-chosen throws and lamps, to creating your own 19th century bedroom can work, as long as you end up with a space that suits you. Once the room feels like yours, it will be a natural place to relax and enjoy the romance.
This guest post has been written on behalf of 2Furnish, who specialise in conservatory furniture in a wide range of styles. Visit their site to find out more.