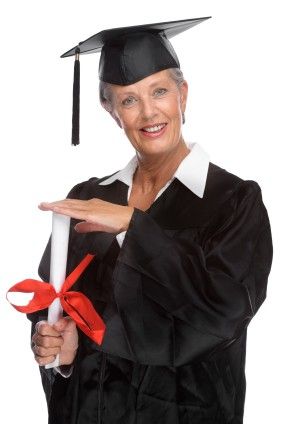 http://istockphoto.com
Continuing, or starting, your higher education is a great idea at any age! A bachelor's or master's degree will help you to earn a higher salary, advance your career and keep your brain active.
There are many factors to consider when pursuing a higher education, though. There are more options available than there was even just a decade ago and they are all worth investigating.
Relax - You'll Do Great!
Older students often feel they won't be able to compete or fit in with younger students. This is actually the exact opposite of the truth. With age comes wisdom and with wisdom comes a unique perspective. By having this to your advantage, you will be able to provide a rich learning environment for the younger students. You will ask questions that they would not even fathom. You will be able to provide examples of real life application to the information presented.
Many students feel they are "too old" to attend college. This thinking is misleading; there is no age limitation! As long as you have a sincere desire to learn, you will be a success in the classroom. Generally speaking, older students are usually done with late night parties and weekend benders. This means you will be more focused on the task at hand: learning.
With apprehension and anxieties (somewhat) eased, what degree should you choose?
Online vs. Traditional
You do not want to enter your education blindly. Researching the demand for various degrees and careers that they lead to, will help you make an informed decision. These days, you can elect to attend school online or in a traditional environment. Both options usually have elements of the other; online schools may have some classroom time and traditional schools may have online components. With an online education, you will be able to fit your studies in with your usual schedule. This allows you to balance your current job, family and education on all your individual terms.
Here are some promising online degrees perfect for the older student going back to school:
Online Computer Science Degree – The field of computer science is always growing, more and more. There are essentially always job openings available for someone with a computer science degree. An online computer science degree opens you up to career pathways such as IT Support, Computer Programming and Network Administration to name a few. All of these careers have an annual salary of above $35,000.
Online Law Degrees – Some law schools are opening up online law degree programs. Choosing a career within the legal system is a great decision; law experts will always be in demand. While an online law degree will not allow you to become a practicing trial lawyer, it will allow you to enter into administration, legal consultation and advanced clerical positions.
Move Up To Masters
A master's degree allows you the opportunity to garner more attention from perspective employers. It also enhances your knowledge of your field, which has numerous benefits on its own. Below are some promising master's degrees that lead to even more promising careers:
Masters of Public Administration – Also known as an "MPA," this program allows you to serve as a manager in the executive branch of the government. This includes local, state and federal roles. Recently, this degree has expanded to nonprofit and nongovernmental roles as well. An MPA teaches you organization and management skills that lead to many careers, such as: emergency management, urban planning and community development.
Masters of Mathematics – There is a surprising rise in demand for those with a master's degree in mathematics. This degree prepares you to be an actuary, high school teacher or professor. This career path is projected to increase substantially in the coming years, making it a strong decision for those seeking a lasting career.
Your Life Has Been Your Education
Even if you have never attended a higher education institution, your experience in life has well prepared you. By living out in the real world, dealing with real problems and experiencing real growth, you have been aptly prepared.
Research your major, find a great school that fits your needs and get enrolled! You may be surprised at how much you'll enjoy it and how far it will get you down the line.
This article was provided by Adam Simms. Adam is currently working on his master's in public administration and expects to have his degree in one more year.