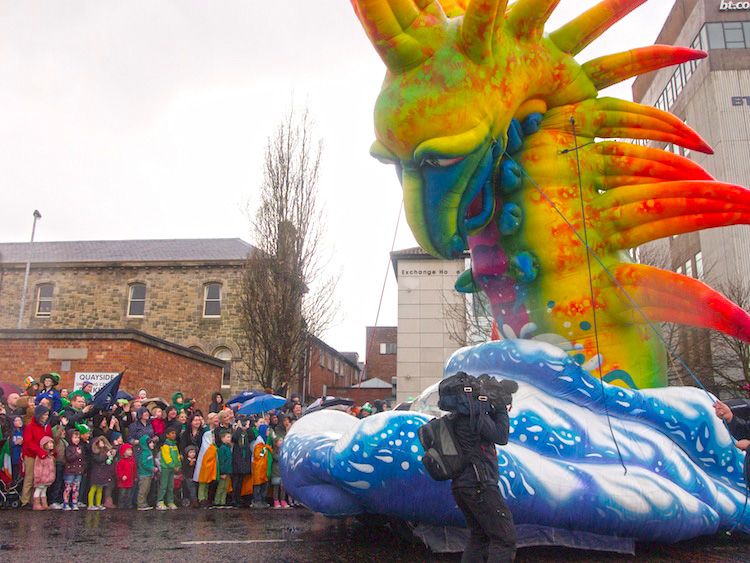 Columbia Hillen
Move over Dublin, Derry's performing a jubilant jig.
The medieval 'walled city' is bathing in the success of several major international festivals as it prepares to host the 'Clipper Round the World Yacht Race' in June, with its own Derry "LondonDerry" Doire entry doing very well thus far. Places the luxury sporting yachts visit on their global route, with major celebrations taking in each, include San Francisco, Panama, Jamaica, New York, Derry and London.
With experience gained from being the UK City of Culture last year, the northern Irish coastal city also bathed in the overwhelming success of its recent Saint Patrick's Day festivities.
Entitled 'A Taste of Music, Myth and Magic,' officials organized not just a colorful parade down its main streets and open-air music concerts but a gourmet food fair featuring leading chefs demonstrating their well-honed skills and booths selling a myriad of culinary delights ranging from goat burgers to venison sausages, pork belly and squid with salt and chili.
The three-day LegenDerry Food Festival, which took place in both the ornate downtown Guildhall and in a special marquee tent in the open square opposite, showcased the wealth of food offerings all over northern Ireland, with associated themes 'plot to plate' and 'grown here, not flown here.' The festival was sponsored by the DARD NI Regional Agri Food Programme; Derry City Council; Invest NI and the City of Culture Legacy Programme.
Chefs strutting their stuff included Rachel Allen (http://www.rachelallen.com), who hosts a television series on RTE and BBC; Neven Maguire (http://www.nevenmaguire.com), celebrity chef on RTE; Brian "No Salt' McDermott (https://www.thenosaltchef.com); and Ian Orr (http://brownsrestaurant.com/), owner and head chef of Browns Restaurant who starred in BBC's 'The Great British Menu.'  
The vendors, both inside and out, were diverse, and included Donegal Prime Fish Ltd. (the Donegal harbor of Killybegs being the largest in Ireland); Vital Nutrition with Jane McClenaghan who has 12 years experience as a nutritional therapist; Paul's Butchers, provider of locally-made, different flavored Irish sausages and bacon (http://paulsbutchers.wix.com/pauls); fine meat purveyor, Broughgammon Farm in Ballycastle, Country Antrim, under farm manager, Sandy Cole, whose meats range from kid goat to wild venison; and, not to ignore desserts, home-made ice-cream provided by Braemar Farm Ice Cream from Castlerock and O'Conaill's Chocolate, homemade Irish chocolates from west Belfast.
Derry's parade – under the theme "Music Myth and Magic" - was both colorful and creative, one that included faeries, pixies, leprechauns and druids among its marching retinue. 'In Your Spaces,' a circus school, provided the bouncy leprechauns and pixies; the Philippino Group displayed costumes and props inspired by traditional Filipino festivals; while rounding off the greenery was the Strathfoyle Community group, whose members wore feathery back-packs.
Steelstown GAA members impressively dressed in gold and silver and wore long, flowing druidic robes while carrying chalices in a Pagan sun worshipping procession; the Waterside Womens Center wore earthy masks; while the Na Maghla Hurling Club told the story of Celtic legendary figure, Cu Culainn aka Setanta, the mighty Irish hurler who defended himself single-handedly against the ferocious watchdog of Culainn's fort.
Of course, a Saint Patricks's Day parade isn't complete without reference to a snake (the fellow being credited with driving the slithery serpents out of Ireland) so Bui Bolg from Wexford brought Puca the Dragon – basically a big 40-foot long snake. Additional family entertainment was provided across the Peace Bridge, where actors and actresses dawned exotic costumes and became fantastic characters parading around the city's main square. There was also a screening of the movie, 'Darby O'Gill and the Little People,' a fun 5k run and a special disco.    
Music was plentiful throughout the city, with three different open-air stages having performers simultaneously with numerous bands playing in various hotels and pubs, all culminating in a wonderful concert by dynamic Gaeltacht-Scotland-based group Manran. (http://manran.co.uk/wp/)
Meanwhile, just across the border, in Donegal, well-known Irish singer-songwriter Pat Gallagher  dedicated a special St Patrick's Day concert with his band 'Goats Don't Shave' to a local infant, Lucy Gallagher (2), who suffers from a rare, potentially life threatening skin disorder.
Columbia Hillen
Columbia Hillen
Columbia Hillen
Columbia Hillen
Columbia Hillen
Columbia Hillen
Columbia Hillen
Columbia Hillen
Columbia Hillen