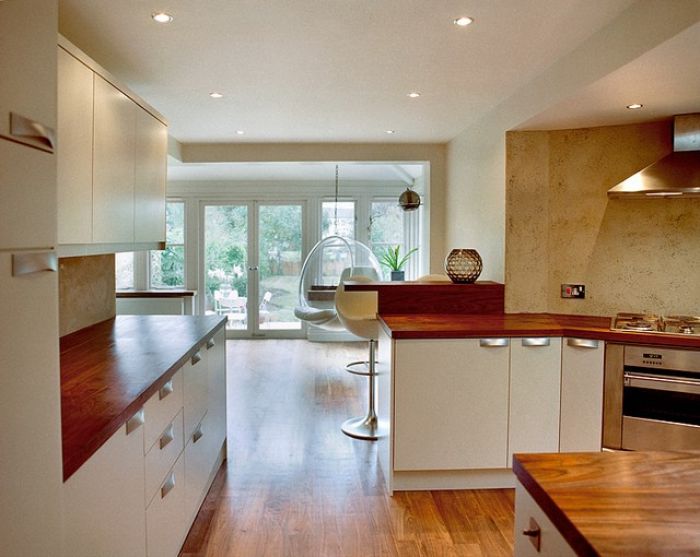 Rogue Designs
A few well-placed accessories can be just as effective as completely re-designing your kitchen; you just need to know what to invest in! Here are a few small touches that offer a pretty and practical alternative to your everyday home design.
Butcher's Trolley
These are available from high street and high-end retailers alike, including many bespoke kitchen furniture outlets.
The beauty of this storage solution is first of all the aesthetic. You can purchase these in a multitude of styles from traditional hardwood to minimal steel. They are usually mounted on casters so they're portable, and with regard to storage space they can save you an entire kitchen renovation if you need just that little bit of extra room!
Most butcher's trolleys come with drawers and racks as standard, although some go the extra mile with fold-out workspaces and bottle holders. They come in a variety of sizes and can stand in pride of place as a kitchen island, or fit snugly into a corner providing an easy-access but stylish home for your organic root vegetables!
Wine Rack
For the debonair wine consumers amongst you nothing quite says sophistication like a diverse wine collection. Whether they're off-the-rack supermarket tipples or finely aged triumphs of beverage design, they're going to need a fitting home.
Make a design statement with your storage solution by opting for an eye-catching structure, such as this collection of stunning alternatives to a dusty cupboard. Just remember to warm your reds and chill your whites!
Coffee Machine
Everyone can appreciate the joys of a hot cup of fine coffee at any time of day. However it can be difficult to achieve the desired results when you're too busy to indulge in anything other than a cup of instant before heading off on your morning commute or dashing to a big client meeting!
Take the hassle out of concocting the perfect cup of coffee by investing in an express coffee machine. These clever little devices will have your cup full before you can find a pair of matching socks in the morning.
Drying Rack
If you wash up on a regular basis you'll know that your average drying rack isn't the most beautiful thing in the world. With all those nooks and crannies between rack and draining board, occasionally you'll get nasty residues accumulating.
Try opting for a two tier design with a drip tray to minimise contact between your kitchen sides and your freshly washed dishes. It'll prevent your draining board from staining or tainting and a tiered design will help to conserve space - and look a little more elegant and refined!
Wall Art
Spice up your interior design in the form of a transfer or wall hanging designed for use in the kitchen! These could be anything from minimal and functional touches like a rack to hold your various utensils, or more adventurous like coloured glass splashbacks.
Something along these lines can change the whole aesthetic and ambience of a room for the better, as well as serving as a great conversation starter when you're entertaining!
Tea Towels
A must have in any kitchen setting, why put up with boring tea or hand towels? Check out Ulster Weavers for cute alternatives to boring cloth designs. These are one of the few kitchen accessories almost perpetually in use so make sure yours make a statement!
Estelle Page is an interior designer with an unparalleled love for kitchen gadgets! She relies on her coffee machine to help her get up in the morning, but once she's indulged in a perfect cappuccino there's no stopping her. Image via Rogue Designs.