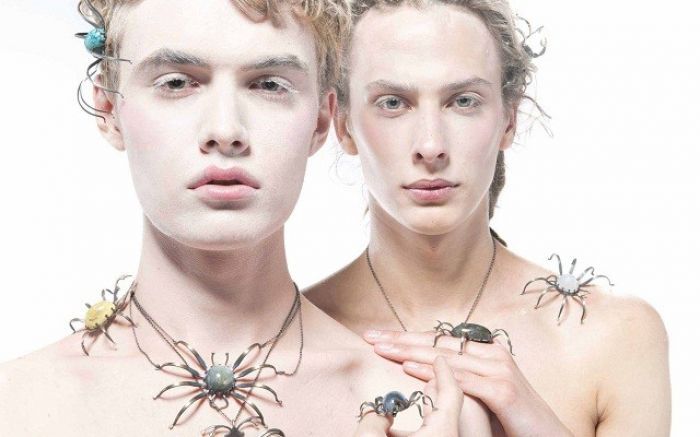 If you've stopped by the Joyce Boutique in Beijing, you can't miss La cage des Anges, the stunning light installation designed by creative artist Mario Salvucci.
"The collaboration with Joyce started thanks to art director Bartley Ingram, [who] after seeing my work, approached me with the idea of designing a huge birdcage for the entrance of their [then-new] Joyce Boutique in Beijing," Salvucci tells me.
Initially planned to host birds, La cage des Anges was built with the best environment for the feathered animals in mind. "I worked on the idea of a nest hanging from the ceiling and included a light fixture [inside]," says Salvucci. It was later decided that the fully functional birdcage would exist solely as a lighting installation, a large-scale statement piece.
Despite a knack for producing macro-size work and winning an International Design Award from the International Design Resource Awards (IDRA) in 1997, Salvucci's love for micro-size production resurfaces and prevails at this point in his career.
First Creature Inspired by Diane Pernet
In 2011, almost 30 years after starting his first jewelry line Mario Salvucci Jewlery, Salvucci launched his second line Incredible Creatures. The nature-inspired collection has since graced such glossies as Elle, Vogue, and Dazed & Confused. "I believe that nature and art are the most interesting expressions of the world that surround us and I can't imagine one without the other," he enthuses.
In his research, Salvucci discovered that the likes of plants, insects, and marine animals are considered divine in older cultures and are used as talismans. But what intrigues him is the curious effect certain species have on people. For example, while some of us adore spiders, others are terrified of their presence. "This is what fascinates me and inspires my work," explains the designer.
The idea for Salvucci's first piece, a black spider dubbed Vedova Nera, was sparked by the signature style of his beloved friend Diane Pernet, the influential black figure who founded the fashion film festival A Shaded View on Fashion Film (ASVOFF). "[Pernet] is a real visionary and source of inspiration," he gushes.
Each piece in Incredible Creatures is bent by Salvucci's own hands in his studio in Umbria, Italy. Like everything in nature, every creation is one of a kind.
And when you wear Salvucci's creations the way he casually sprinkles his scorpions over his body, every look you create will be one of a kind. Your body becomes earth, and you become part of the nature.
Got a story idea? Contact me.
La cage des Anges at Joyce Beijing
Incredible Creatures x Dazed & Confused
Incredible Creatures x Dazed & Confused
Diane Pernet wearing Vedova Nera
Incredible Creatures: Lady Bug
Incredible Creatures: Metamorphosis
Incredible Creatures: Scorpion
Incredible Creatures: Spider
Incredible Creatures: Tarantola