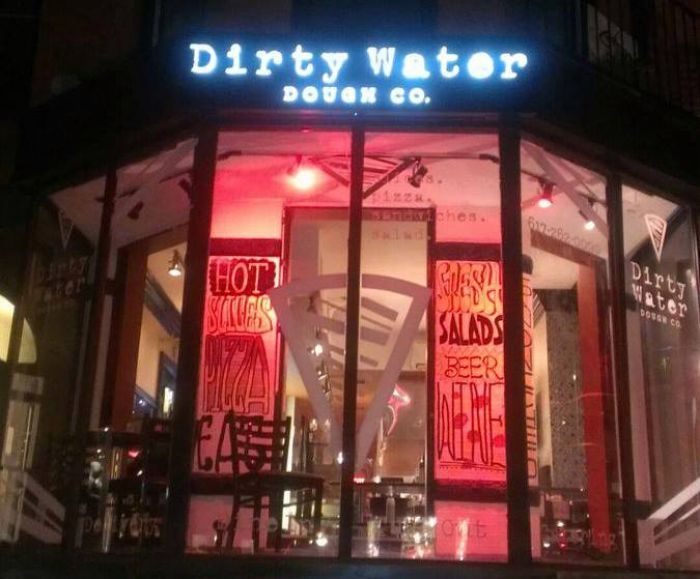 Dirty Water Dough Co.
There are pizza parlors and then there are upscale pizza shops that offer creatively topped pies located on Boston's tony Newbury Street. That's exactly what you will find at Dirty Water Dough Co., which has just opened in the former Proper Slice space.
Located above street level, the gourmet pizza shop is now introducing Bostonians to funspecialty pies like theFenway Frankmade with Boston Fenway Franks, house blend mozzarella, sauerkraut, cheddar cheese, mustard, white onion and Grillos relish.
The chalkboard hanging on the wall in the 30-seat main dining room lists where all of the bread, meat and produce come from. They source most of their items locally from places like Bianco & Sons of Revere for sausages, Siegel Egg of Billerica and Iggy's of Cambridge for bread.
"We have our own IPA from Cape Ann Brewery that we put in our dough," said Sam Sokol, who owns Dirty Water Dough Co. along with managing partner Luigi Barrasso. "The addition of beer in the crust gives a more fluffier appearance with the yeast and the hops and malt make it sweeter."
Other specialty pies (available in 12" or 18" sizes) includeMac Cheesy(macaroni and cheese topped with Ritz crackers and Cheez-It),The Scampi, (garlic oil base, house blend mozzarella, fresh shrimp, roasted garlic, diced tomato topped with fresh basil) and Red Bliss (garlic oil base, house blend mozzarella, cheddar cheese, red bliss potato, apple wood smoked bacon, sour cream drizzle with chives).
We sampled the classic Margherita, a delicious combination of tangy marinara sauce topped with fresh sliced mozzarella, sliced vine ripe tomatoes and fresh basil. It's a good thing we had a large pie of the addicting Pollo Alfredo because we couldn't stop at just one slice. This giant pizza was loaded with a creamy alfredo sauce, house blend mozzarella, roasted chicken and broccoli rabe.
Coming soon are pizza making classes held on Monday nights and a dessert menu, which will feature a s'mores style pie. Dirty Water Dough Co. is located at 222 Newbury Street in Boston. For more information, call (617) 262-0900 or visit them online at www.dirtywaterdough.com.
Dirty Water Dough Co.
Kellie Speed