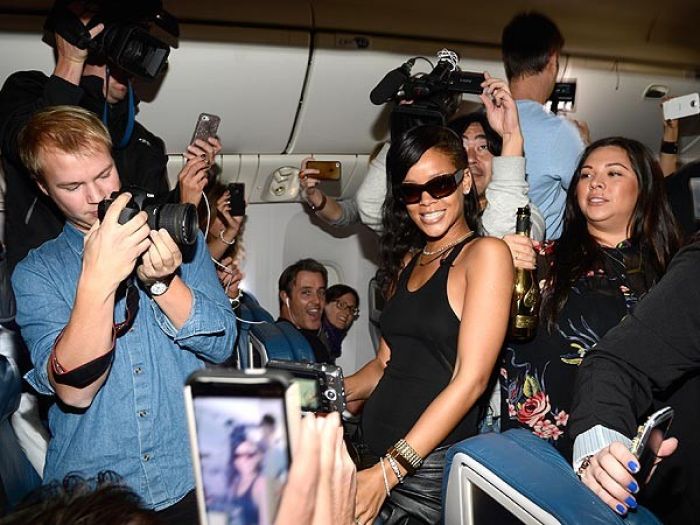 KEVIN MAZUR/WIREIMAGE
Well, this is interesting. In a huge PR push for her new album Unapologetic, Rihanna invited 250 guests (aka journalists and fans) on tour with her for 7 days, across 7 countries, with all travelling in a Boeing 777 airplane. Recent reports and Tweets are revealing mutiny on board the plane due to many factors, one of which is Rihanna's lack of appearances and engagement with guests on the flight. Sounds like a brilliant idea Rihanna... invite 250 people to travel with you in cramped airplaine quarters, through 7 countries, and then ignore them. I'm not sure this was the press she was hoping for...
Mayday! It's chaos on Rihanna's VIP plane!
Rihanna's 777 Tour, which kicked off Wednesday, took journalists and fans on a seven-day, seven-country tour in celebration of the release of her new album Unapologetic(out Nov. 19) – all on board a tricked-out Boeing 777. But the sky-high adventure has taken a slight nosedive, with passengers getting cranky – and a little crazy – according to various online reports and Tweets from passengers aboard the plane. Read more about the 777 disaccord here.