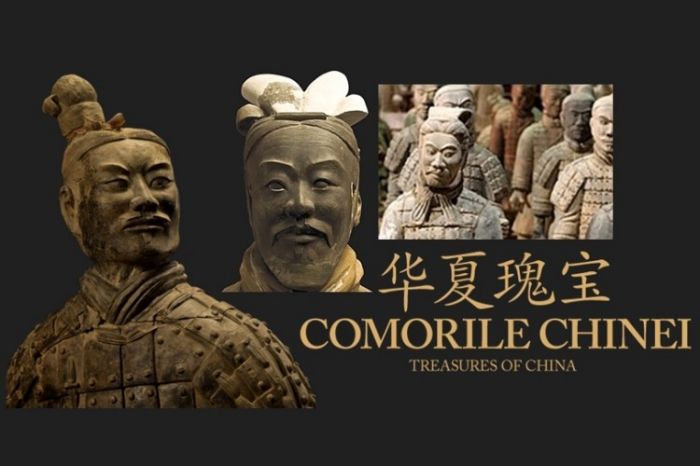 Azzurytt
The prestigious exhibition "Treasures of China" is on view in Bucharest at Romania's National History Museum (former Posts Palace) throughout August 1, 2013.
This rare event exhibition publicly showcases 101 inestimable artifacts sets from the cultural patrimony of People's Republic of China, originated from 11 museums and cultural institutions. On display for the first time in Romania, the highlights are 4 life-size soldiers from the famous Terracotta Army, legacy of the Emperor Qin Shi Huang, built 2000 years ago. Featuring many other items of exceptional value, this unique exhibition gives visitors a handle to appreciate from different historical perspectives the deepness and richness of Chinese culture and traditions.
China's First Emperor Qin Shi Huang's (259-210 BC) attempts to conquer death and achieve immortality. 1974: The great tomb complex of China's First Emperor, one of the largest burial sites ever constructed, taking 700,000 laborers and nearly 40 years to build, is discovered. 2013: It is continuing to captivate the world ever since. Perhaps the most impressive objects excavated back then were estimated 8,000 terracotta figures including warriors of all ranks, horses, musicians and acrobats.
Exhibition Credit: Prepared in less than 2 months – such event usually takes a year – this is the largest exhibition organized by China in a museum of Romania, representing the expression of the most ample cultural diplomacy endeavor and a fiducial museum event.  "Treasures of China" is organized by National History Museum of Romania (MNIR) in partnership with Art Exhibition China, Cultural Patrimony State Administration of People's Republic of China, with the support of People's Republic of China Embassy and Culture Ministry.
The "Terracotta Warriors" experience includes complimentary reservation of luxurious room or suite and traditional restaurants, chauffeured sedan at disposal for one day, access to the National History Museum and more than 3 exhibitions: Treasures of China, Historic Treasure, Lapidarium – The copy of the Trajan's Column and temporary exhibitions.