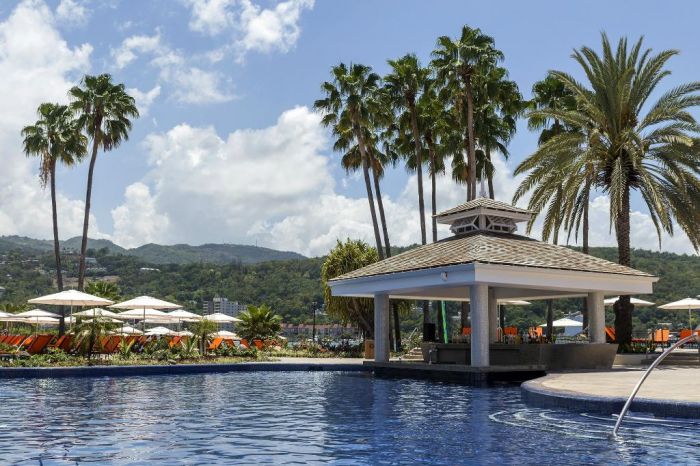 Photo Credit: Moon Palace Ocho Rios
Jamaica is a vacation haven for travelers from the U.K., U.S., Canada and elsewhere. Montego Bay is a coastal city with its own airport, Ocho Rios is another city with resort properties. In Montego Bay, Riu Palace has a 200-room, adults only building with several dinner options, a spa and three infinity pools. Its restaurants are Italian, Asian, a steakhouse, and a buffet with endless selections, and indoor and outdoor seating.
Ochio Rios' Moon Palace is home to 700 rooms, varied nightly entertainment, its own spa and a 24-hour gourmet bakery. There is a sedate piano bar, the nightclub Noir and a sports bar.
From Montego Bay, book a ride with Paradise Transportation to Rastafari Village Experience, where residents explain their farming, medicinal gardens, philosophies and musical traditions. Wear gear you don't mind getting wet and shoes fit for hiking as you'll cross a river to the village. An evening excursion idea is Glistening Waters Luminous Lagoon, which you'll see by sailboat during a phosphorecent ride to Falmouth. Your captain allows passengers to take a dip, and a mate takes photos.
By day, tour Chukka Good Hope, where choices include river kayaking and tubing, dune buggy riding, ATV's, a historic mansion tour, zip lining, rum tasting and a challenge course. This company also has guided horseback riding on the beach. In the famed Blue Mountain, there are bicycle tours, another day trip. Your hotel concierge at Riu or Moon Palace may arrange all these activities. Whether one stays in Montego Bay or Ocho Rios, there is plenty to do and see in Jamaica, both on and off property.