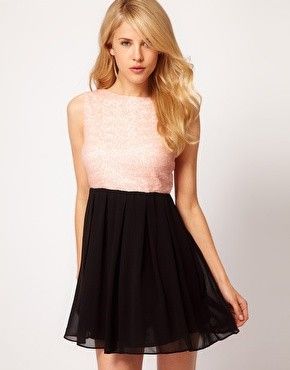 ASOS
I'm a social type of guy, and I do stand-up comedy. Both of those things mean that I spend a lot of time in bars talking to people. Sometimes these people are women. I don't chat up women all of the time, but I can tell when a woman is out to be noticed by men, and it's usually because of what she is wearing.
When I say usually, this doesn't mean all women dress a particular way; in fact the women I am referring to are actually in the minority. These are the women that do way too much. This is too much make-up, a dress that is too short (and probably shows too much cleavage) and heels that are way too high. I find that dressing like you have some self-respect is often way more attractive.
What do I mean by "dressing like you have some self-respect"? Well for starters: leaving something to the imagination. Wear make-up in a way that it accentuates your natural beauty, not cover it up; Wear shoes you are comfortable walking in, and wear clothing that doesn't look painful. If you want to have something on show, pick your breasts, or your legs, not both. If it was up to me though, I would have neither on show. Dresses don't have to be revealing to be sexy. I have highlighted some here that are great, without being too revealing.
ASOS
Summer Dress with Skinny Straps from ASOS
ASOS
Skater Dress from ASOS