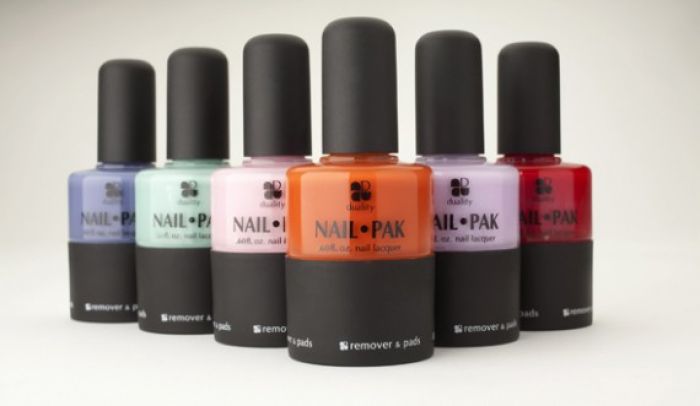 Duality Cosmetics
Duality Cosmetics has recently introduced their latest Nail Pak collection, a compact three-in-one nail care system, which is great for on-the-go travel.
This just might be the easiest way to do your own home manicure. The top half of the bottle contains a nail polish lacquer while the bottom portion offers pre-soaked polish remover pads and a mini removable nail file, all availablein one easy-to-use package.
To get started, make sure your nails are polish free then unscrew the top nail polish portion from the base of the container. Locate the tab on the seal and pull firmly. If you have any chips on your nails, simply file away.
Got some nail polish still remaining? No problem. Simply remove the pre-soaked pads and clean the nails. Be sure to replace the seal for your next use and push down until it resets the cup.
The Nail Pak collection, which retails for $15 a bottle, includes classic colors and some fun colors for spring. We love the "Jennifer" spring color, a beautiful bright grape purple with iridescence. Other spring colors include Ellen, an aqua-blue crème, Amelia, a fiery bold creamy orange and Rosa, a rosy red with a touch of pearl essence.
For more information, visit www.dualitycosmetics.com.