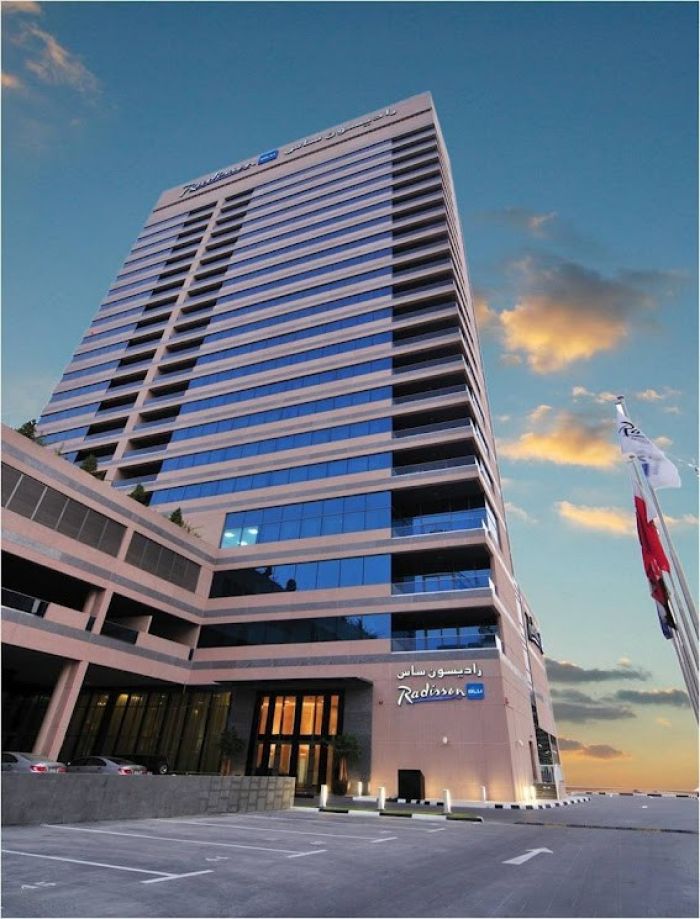 Radisson Blu Residence Dubai Marina is a luxurious skyscraper of 20 floors and counting 152 residence apartments, which was inaugurated in May 2008 in Dubai, United Arab Emirates.
Designed with minimalist style and 5-star elegance in mind by renowned Italian interior designer Matteo Nunziati, hr Radisson Blu Residence features 160,541 square feet of luxury apartments ranging from studio to two-bedroom, all offering stunning views of the marina and impressive city skyline.

The concept of the building is entirely "Made in Italy".

The company "Abyaar", which is one of the main Real Estate societies in the middle east, selected the Studio Matteo Nunziati to coordinate the project from the external structure to the internal space, from the coverings to the illumination and from the furniture to the landscape.

At 36, Matteo Nunziati has already worked with the most prestigious furniture, lighting and covering firms. (Matteograssi, Fontanaarte, Poliform, Poltrona Frau, Rapsel, Gruppo Feg, Listone Giordano, Tisettanta, ect.). Matteo Nunziati is specialized in designing towers and wellness centers, which were realized all over the world.

Besides taking care of the interior and the aesthetic of the space itself, the Studio Matteo Nunziati, together with the design firms, created and developed high quality single products following the well-known "Made in Italy" concept.

The company "Abyaar" , in spite of very high costs, still wanted to exalt the concept of total quality by involving important Italian firms in the project, such as "Poliform" and "Group Feg" for the furniture, "Salvarani" and "Varenna" for the kitchen, "Fontana Arte" for the lighting, "Rapsel" for the bathroom furniture, "Florim Group" for the ceramic coverings, "Tecnogym" for the fitness equipment and "Listone Giordano" for the floor and boiserie in wood.

The challenge of exporting "Made in Italy", from projective creativity to actual realization, has been over passed in the most innovative metropolis of the world.
You can take a virtual tour of the Radisson Blu Apartment Hotel here

LUXURY RESIDENCE
Complete interior design project of luxury residences in a tower of 20 floors with 153 apartments, lobby area, restaurant, shop cafè, retail, two wellness center, three swimming pools the Dubai Marina Residence is one of five Radisson Blu hotels in Dubai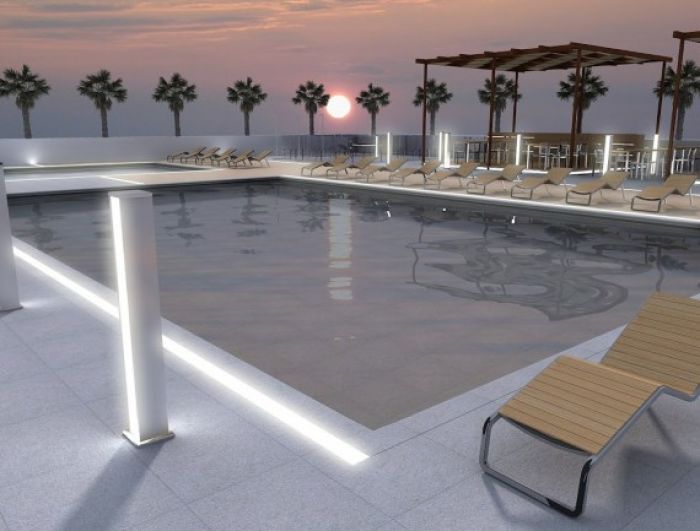 Pool