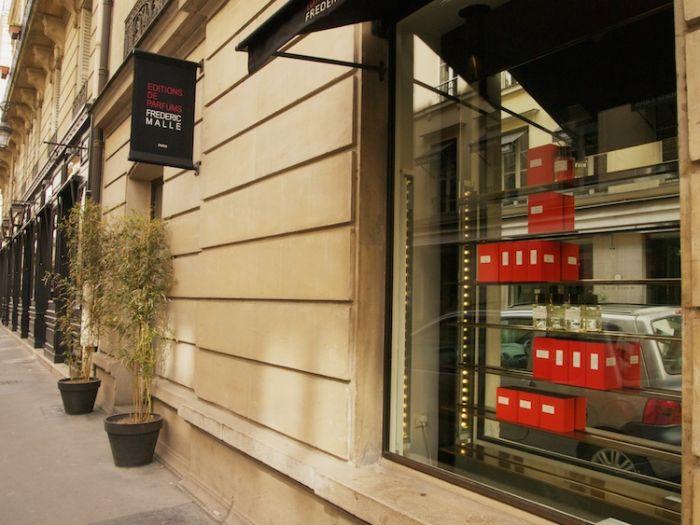 Columbia Hillen
Parisian Frédéric Malle, 50, says he was born for perfumes.
As an infant, his baby skin was 'testing paper' for new fragrances, mainly by his grandfather, Serge Heftler, who founded Christian Dior Perfumes. His mother later worked as an art director there.
Initially studying art history in New York, Malle made a change in 1986 and accepted a position at the perfume lab Roure Bertrand Dupont. There, he learned about raw ingredients, composition and other aspects of perfume creation.
In opening his first 'Editions de Parfums' store in 2000 he described himself as a "publisher of perfumes" and his 'noses' as "authors," thus the streamlined packaging designed to resemble books echoing the famous Editions Gallimard. His unique approach is to grant his 'noses' full freedom to create their own fragrances and print their names on the bottles.
Now, with a series of stores in various countries including the US, France and the newest one, a 30 sqm store in Dubai, the author of 'De L'Art du Parfum' seems to have followed his familial legacy strongly.
Intrigued by Malle's innovative strategy, my wife and I visited the largest of his stores (45 sqm) located immediately below the company's head office – right in the heart of Paris, at 21 Rue du Mont Thabor.
Once inside the front door, the first thing that caught our attention were three Man-size, transparent tubular capsules standing upright beside each other against the left-side wall, the kind Captain Kirk and his colleagues on the Starship Enterprise might be beamed up on. Store manager, Hélène Coudercy, explained these were 'smelling booths' and within minutes we were invited to test them out. She opened the door of one, sprayed in a little perfume, closed the door for a few seconds to allow it to disperse, then opened it again and asked us to smell inside. Use of the capsules instead of the normal 'paper tests' ensures a more comprehensive understanding of the fragrance one might be wearing.
The store's reception area is modernist in style – pure white walls, polished hardwood flooring, a speckled black and white fireplace, a central reception desk and chair, a comfy armchair and a single flower in a vase on a shelf. Lining the far wall is a long glass panel containing varied vials of essence. A copy of Malle's book and a framed photograph of him hang from the wall nearest the front door. On the opposite wall are twelve black and white photographic portraits of the 'noses' whom Malle chose to create their own perfumes. They include Jean-Claude Ellena, Dominique Ropion, Maurice Roucel, Olivia Giacobetti, Pierre Bourdon, Edmond Roudnitska, Ralf Schwieger, Edouard Flechier, Michel Roudnitska, Sophia Grojsman, Carlos Benaim and Bruno Jovanovic,. The latter custom-produced a perfume for designer, Dries Van Noten.
Coudercy invites us into an adjoining showroom, offering us espresso as we sit down to talk. The room is carpeted in brown with green curtains. A worn armchair stands in one corner and a slim, carved wooden statute of a woman stands in another. Four shiny black piano-shaped counters take up the center of the room with a transparent refrigerated glass panel containing vials of perfumes facing us along the back wall.
"We want to highlight the work of the perfumer," Coudercy begins, explaining her company's strategy. "They are the stars. We ask them to create their own perfumes, without compromises of any kind, including time, marketing constraints or ingredients."
Coudercy, who spent some time at Liberty of London, Barneys New York and Frédéric Malle's flagship store in the US on Madison Avenue, says clients are offered a short private consultation lasting around 15 minutes in which they are asked a series of questions. "We try to have a better understanding of the client's personality, of their specific desire for a particular kind of fragrance, or whether it's for a specific occasion."
Malle's company has 18 plus one fragrances, the one being custom-made product for Dries Van Noten – a new collection that will be soon launched. Ingredients in the colognes and perfumes range from 20 to 100, with the former having around 4 per cent concentration and the latter 12. Two particular perfumes – Une Rose and Carnal Flower – have around twenty-five per cent. The perfumes come in 50 to 100 ml bottles or in a special travel refill, encased in a cylindrical-shaped spray, costing around 220 euro. The spray - awarded 'Best New Grooming Product' at the Wallpaper Design Awards this year - was designed with French shoe designer, Pierre Hardy. The sprays are produced in a limited edition of 1,500 and available in nine color versions.
Prices vary, from around 150 to 235 euro for 100 ml bottles and around 180 euro for customized fragrances. The company also produces other scented products, including candles, body creams and soaps, as well as 'perfume guns' for home fragrance and 'rubber incense,' described as a kind of high tech version of a classic lavender sachet, more suitable for small spaces such as closets, dressing rooms or car interiors.
With a wide-ranging offer – from Jean-Claude Ellena's subtlety to the bold adventurousness of Dominique Ropion; from Edmond Roudnitska's vintage Le Parfume de Therese, to his son, Michel's oriental peppery Noir Epice; from the quiet sensuality of Maurice Roucel's Dans tes Bras to the serene, impressionistic En Passant of Oliva Giacobetti – there is variety in abundance to satisfy one's search for that elusive scent. For more information go to http://www.fredericmalle.com
Columbia Hillen
Columbia Hillen
Columbia Hillen
Columbia Hillen
Columbia Hillen