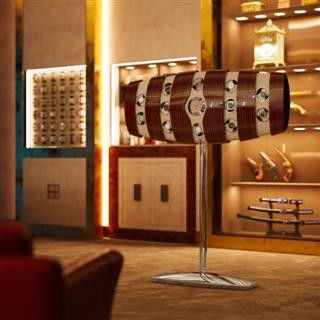 Agilis
MORPHOSIS
The excitement of the Morphosis lies in its transformation: the moment you enter your code on the touch panel and the interior begins turning, as if by magic.
A few seconds later, the breathtaking view of your watch collection reveals itself. But just a word of caution: one click and the sesame closes again just as magically.
Two times 21 individually programmable watch-winders turn at your command, each in 90-degree position within the stainless steel casing of the Morphosis, which can naturally be individually selected.
Carbon, ray skin, fabric, or a fine fur cover – your wish is our command. The same applies for all the steel components, which we will be pleased to refine in the lacquer varnish of your choice.
You control the opening mechanism of the Morphosis and its 42 watch-winders quickly and intuitively using the integrated touch panel. In addition to its design and highly complex technology, the Morphosis impresses with its integrated sound system, which can be controlled on your smartphone
Public Price: 95.000 EUR (net, ex works)



GIGANTIS
There is a good reason why Gigantis bears this fitting name: 1.80 m wide and 2.10 m long, it is an eye-catcher in any room due to its dimensions alone.
Even more impressive than its size, however, are its inner values. At the push of a button, the two motorized side wings open, offering a view into the opulent interior furnishings: 60 individually programmable and illuminated watch-winders, an air-humidified humidor, and an illuminated bar compartment.
The watch-winders are controlled and programmed via a touch screen, which is operated from the centrally positioned mirror element. Directly below this, two further screens are integrated for TV and DVD enjoyment.
Unseen, but in top quality in the integrated media center, which can also be controlled with a smartphone, you can hear every kind of audio file.
It goes without saying that the Gigantis can be individualized in many ways, if desired. Regardless of whether a certain type of wood or leather, your favorite color, or the use of other materials, including carbon, for example – we will turn your visions into reality and ensure that the Gigantis perfectly matches your style of furnishings. Even if we believe that it will always stand out.
Public Price: 185.000 EUR (net, ex works)

AGILIS
With the Agilis, our engineers and designers have created a unique object that becomes an exclusive eye-catcher in any room.
Twelve individually programmable watch-winders group themselves around a firmly integrated mechanical collector's clock of the highest quality. But first an electromechanical opening mechanism gently and noiselessly opens the closed lamellas of the amphibious frame, offering an unimpeded view of the watches. An impressive, flowing movement, which is echoed in the basic forms of the Agilis.
While the interior in finest Alcantara is showcased through integrated accent lighting, the exterior captivates with its high-gloss-lacquered precious woods.
Naturally, the shell element can also be implemented in other materials, such as leather or fabric.
Optionally, the Agilis can be equipped with an integrated sound system: the side end planes function as loudspeakers and are wirelessly controlled via a Bluetooth connection.
From whichever angle you look at it, and whether it is open or closed, you will always enjoy the breathtaking appearance of the Agilis by Kudoe, Schli & Matz."

Price is not calculated yet, since at this point the product is not on the market!
Agilis