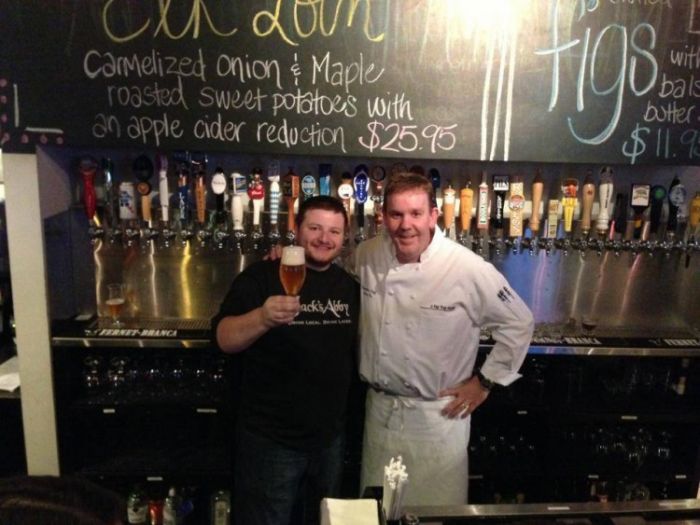 The Tip Tap Room
Elk, antelope, kangaroo and llama?
Not your usual finds on a dinner menu but for chef/owner Brian Poe at The Tip Tap Room, it's standard fare. Specializing in all sorts of tips from lamb and turkey to swordfish and steak and nearly 40 taps from Boston to Belgium, the restaurant also features a daily game special.
Located just outside of Government Center on Cambridge Street, The Tip Tap Room is one of three popular restaurants with Chef Poe's name attached to it (think Rattlesnake Bar in the Back Bay and Estelle's in the South End). Inside, the main dining room features a large chalkboard with daily game specials, bustling bar and an open kitchen.
We recently visited The Tip Tap Room and got started with a couple of drafts - Downeast Cider and Hoppy Lovin Christmas. Our friendly server suggested we try the cheese and cracklins, a delicious sampling of fried goat cheese balls and duck fat fried prosciutto "cracklins" served with asparagus tips in a tasty carrot ginger sauce. Poe's culinary talents shine through with dishes like boar meatballs, not served in a traditional red sauce as you might expect, but in an inventive spicy ginger cilantro broth. We couldn't get enough of the creative potato appetizer with seven bacon tips, creamy beer cheese sauce, fried oysters and pickled Serrano pico.
While the game specials change daily, the day we were there, we had to try the juniper berry rubbed elk filet, a tender and juicy cut served with porcini goat cheese duchess potato, porcini buttered green beans and a flavorful cranberry jalapeño chutney. The spicy chipotle braised antelope short ribs were falling off the bone served with smoked cheddar and boar bacon grits and sautéed collards.
For dessert, the "Brownie & Scotch" with peppermint ice cream, pecan fudge brownie, Mary Ball cookie, mint whipped cream and scotch infused caramel was the perfect ending to a fun experience.
The Tip Tap Room is located at 138 Cambridge Street inBoston. For more information, call (857) 350-3344 or visit them online at www.thetiptaproom.com.
The Tip Tap Room
The Tip Tap Room
The Tip Tap Room