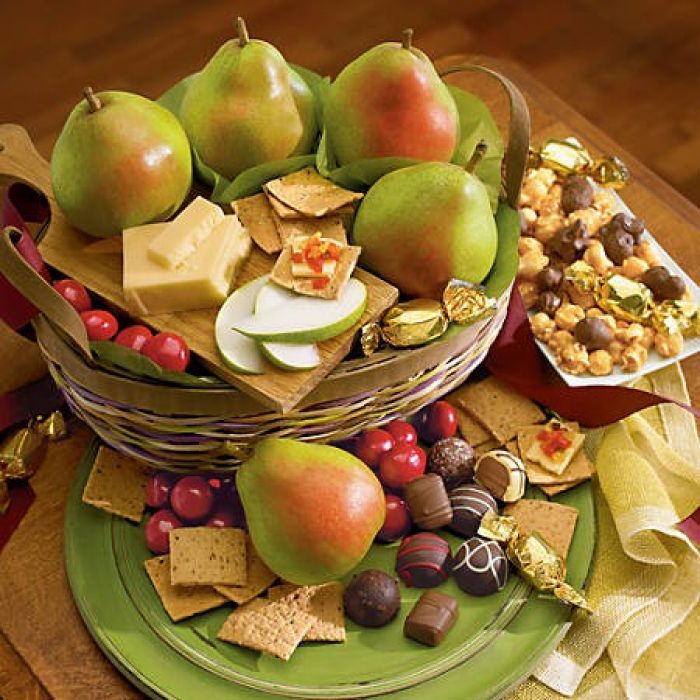 Harry & David
With fall just around the corner, it's time to turn over a new leaf. There is no better way to do just that than with some great fall classics. Here are our picks to make the most of the cool weather:
Harry & David's Crater Lake Gift Basket Classic is the perfect way to celebrate the start of Fall. Filled with everything from pears, extra sharp cheddar cheese and crackers to popcorn and chocolates, the classic makes a great hostess gift or indulgence at home for you and your family. The collection of sweet and savory treats was inspired by one of Oregon's landmarks, Crater Lake. You don't have to book a flight to Oregon to enjoy these sweet treats (but they would gladly welcome you there). Simply take them outside and enjoy on your own deck on a nice cool fall night and next fall you may be booking a trip to Oregon.
For those chilly cool nights that seem to come so quickly, keep your fingers warm while still staying connected with a pair of Glove.ly Classics. The warm gloves are not only stylish but they are designed to enable you to use your touch screen device with any part of your hand without taking the glove off. If you are waiting for the train or checking your emails while you are at the mall, these toasty gloves are guaranteed to work. Best yet, the small magnets hidden inside the logo keep you from losing one.
Who said baseball had to end in the fall? That's where the folks at ChappyWrap luxury blankets come in. The New England-based luxury company lets us enjoy our boys from Fenway Park year round with their gorgeous Home Run Red Baseball Blanket. We love the red, white and blue blanket that is made with super soft cotton plush. The women at ChappyWrap created other designs are inspired by Martha's Vineyard and have also introduced a new seasonal line. We plan to use our 60" x 80" reversible blanket year round for those summer bonfires on the beach, warming up on a cool night in the fall and winter and at a Red Sox game in the springtime when it's not quite warm enough to be without one. Best of all, because they are made of cotton, acrylic and polyester, they are machine washable, won't shrink and are pet hair resistant. We think it doesn't get much better than this but you should see for yourself.
We love a good set of headphones just as much as anyone else but when you find a pair that delivers quality audio with comfortable ear pads, life just got a whole lot better. Meet your new best friend known as STREET by 50. These fashionable over-ear headphones, which 50 Cent helped to engineer, are created from a custom polymer plastic and have an easily adjustable and flexible headband. There is a detachable cord that comes with the headphones for tangle-free use while walking around or carrying with you to your friend's house. We particularly love the enhanced bass that deliver exceptional sound quality and ultra plush memory foam leather ear pads that offer a comfortable audio experience quite like no other.
If you prefer your audio in the form of a wireless speaker then don't miss Cambridge Audio's Minx Go. This powerful little portable system delivers quality audio for up to 18 hours of battery life. We love taking the sleek compact speaker with us when traveling. When you get to your destination, just pair it up with your device and get ready to enjoy some deep bass and rich clarity. One cool feature is its ability to remember up to eight phones so everyone in the family can quickly and easily connect to their favorite music.
Even though the weather may be getting cooler, you can heat things up in the home theater department with Epson's new PowerLite Home Cinema 500 3LCD projector. Now you can easily transform your basement into a home theater complete with a cool projector that pumps out a three times brighter image with 2,600 lumens of color brightness and 2,600 lumens of white brightness using 3LCD for a clear picture that can be projected onto a screen up to 300-inches. Setup is simple as well – just connect all of your entertainment devices, including the Blu-ray player and game consoles. The Silver Edition home theater unit has HDMI, built-in set-up tools and a compact design and is equipped with a 2W speaker with the ability to connect additional external speakers for even better sound. Football season suddenly got a whole lot better.
Unfortunately, every day isn't National Rum Day but you can certainly celebrate like it is! We prefer the taste of Bacardi Gold with its hints of vanilla and oaky balance of walnuts, spices and tropical fruits. Just in time for the holidays, try a Caribbean coffee made with one part Bacardi Gold Rum and two parts hot black coffee. Stir thoroughly and top it all off with a generous portion of whipped cream. You'll be glad you did.
Bike lovers unite! Hammerhead Navigation has just introduced a new navigation system that affixes to handlebars and guides your ride with an LED light array. The LEDs provide turn-by-turn directions, including when you've ultimately reached your destination. Even better, you can download an app that will give you route suggestions based on your preferences. Once a route is selected, the app communicates via Bluetooth Smart, allowing the phone to remain safely stashed away with its screen turned off.
Glove.ly
STREET by 50
Cambridge Audio
Epson
Chappywrap
Bacardi
Hammerhead Navigation