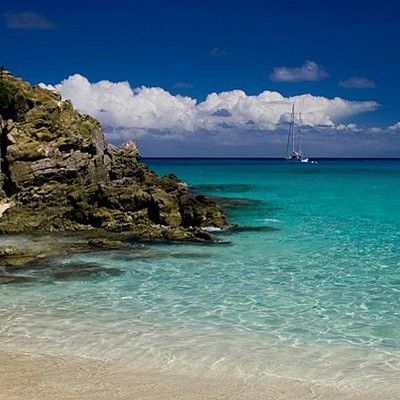 Hotel Guanahani
Last time I stayed on the island of St. Barth, a few friends had asked why I didn't stay at Guanahani. Now I know why: a long private stretch of beach; plenty of water toys; a gem of a techno gym looking onto the sea; a stunning and impressive spa with private and quiet adult pool; a huge pool for laps and splashing about; a kids club; beach bar; two restaurants; two lit tennis courts; two boutiques; and pretty rooms, suites and mini-villas from which to choose—bright colors pop against white frames and colonial style backdrops and most everywhere you look is the turquoise sea. These reasons and more make it one of my new favorite places to stay.
Need to Know
Great for:
A 4-7 day beachy holiday on one of the most charming, chic islands in the world on a 16-acre property.
With whom:
Travel with the kiddies, as a couple, with a group of friends, as a mini company offsite, multi-generational trip, you name it. Really there is something for everyone to be very happy and well-entertained.
Memorable moment:
Being envious of the kite-surfers whizzing past whilst sipping fresh juices after a morning workout. "Why can't we do that?" we asked ourselves.
Best time to go:
St. Barth tends to be very crowded and rather zoo-like on school holidays, over Christmas, New Years and the month of August. Good times to visit: October up until Christmas; mid-January through May. Even Summer can be fun because it's not too humid. Have the resort more to yourself and the island free of traffic!
Be aware:
Many of the lovely staff are not English speakers. Some don't understand it at all. Be clear and smile, they are trained to please!
Specifics
Room options:
Many rooms and suites have been upgraded and you can request one of these. There are 68 cottage-bungalows, 33 rooms, and 35 suites, 14 with a private pool, and plenty of family-friendly suites with spacious living rooms and terraces—wonderful options when traveling with the kids. The newly re-decorated two-bedroom bungalows are super stylish, large scale, plush and have water views on more than two sides.
Service & vibe:
Laid-back, chic, European (very French), sporty and kid-friendly, but by no means teeming with children. The service is very good.
Food:
Have breakfast (a gorgeous, varied buffet spread of high quality yummies and omelet/crepe maker on site) in front of the old-fashioned pool looking onto the palms swaying next to the sea; it's hard to beat. Indigo is where you breakfast and lunch, or opt to eat at the beach tables under canopies. Bartolomeo is more of a gastro-chi chi affair.
Price per night:
From €350 (US$455) and up, depending on the season.
Experience
To do & see:
Saline beach is the best first-day locale to get into the spirit of the island. Walk the port town of Gustavia as a happy shopper (one of my personal favorite places to shop anywhere in the world), have a drink at another fab hotel (such as Le Toiny complete with gorgeous views), take a drive around in your rental car, and see and be seen at one of the buzzy beach clubs or afternoon lunch hotspots like Le Ti or Maya's.
Sport & activities:
Great for fit/active types, Guanahani offers the chance to do most any island sport one wants to take part in on vacation. Windsurf, take a kayak or paddle board out on the sea, play tennis with their wonderful coach, or workout with their private yoga/pilates trainer.
Spa & grooming:
The treats here are not limited to the treatments—the surroundings are stunningly serene and upscale that you'll want to hang out all day. Teak, mahogany and lava stone are the main materials that draw you in; the outdoor shower and adult-only pool make it possible to spend an entire afternoon here, then go right to dinner sporting that new suntan with your shoulders relaxed and face glowing.
Local Insights
To eat:
Somewhat new to the island and my personal favorite, Bonito in Gustavia (ceviche is amazing here). New this winter: Meat & Potatoes next to L'Espirit de Saline. The high-end, romantic atmosphere of L'Isola (in Gustavia) ranks high on my list and Le Tamarin's garden style dining is lovely (if there are winds) for a sans-mosquitos experience.
To buy:
Walk the handful of quaint streets in Gustavia that are packed with hip and unique shops. Many of the hotel shops have all kinds of goodies as well. The best ones are the boutiques of The Eden Rock, Guanahani, and Isle de France to name a few.
Getting there:
The hotel driver picks guests up at the airport. Car rentals can be arranged via the hotel concierge whereby the car is left at reception for you at whatever day and time you specify.
Hotel Guanahani
Hotel Guanahani
Hotel Guanahani
Hotel Guanahani
Hotel Guanahani
Hotel Guanahani
Hotel Guanahani