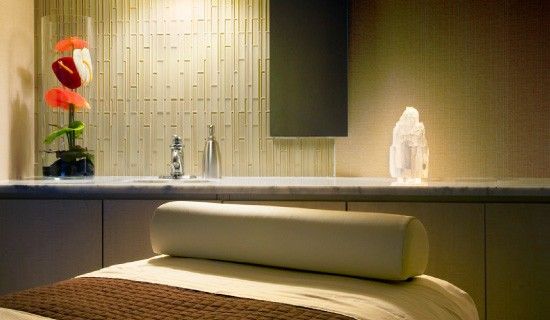 Equinox
Equinox is well known for its upscale fitness facilities but at the recently opened location in Chestnut Hill, Mass., there is a small spa tucked away near the pool on the lower level.
I recently visited the Spa @ Equinox about 15 minutes west of Boston for a relaxing aromatherapy massage that consisted of aromatic oils, including lavender, eucalyptus, balsam, cedarwood, Spanish marjoram and frankincense.
I checked in at the main lobby where I was given a plush robe and sandals and shown my way up to the ladies locker room to change. If you arrive early, you may take advantage of the facilities, which include a hydrating steam room.
There are a variety of massages offered here, including Swedish, deep tissue, equissage, pre-natal, sports, stone, Thai and reflexology. If you don't have time for a full 50 or 80-minute treatment, book a 25-minute back, neck and shoulder massage to alleviate some street.
I met with Whitney, a licensed massage therapist, who reviewed any problem areas I was experiencing and showed me to the treatment room where she showed me a variety of oils to decide which one I preferred. The 50-minute massage used pure essential oils to promote lymphatic drainage through pressure points and various massage techniques. In less than an hour, she worked her magic and I left feeling relaxed, refreshed and rejuvenated.
The Spa at Equinox is located at 200 Boylston Street, Chestnut Hill, Mass. For more information or to book an appointment, call (617) 531-7077 or visit them online at www.equinox.com/spa. There are two other locations in Boston – one in the Back Bay at 131 Dartmouth Street and a second at 225 Franklin Street in the Financial District.
Equinox
Equinox