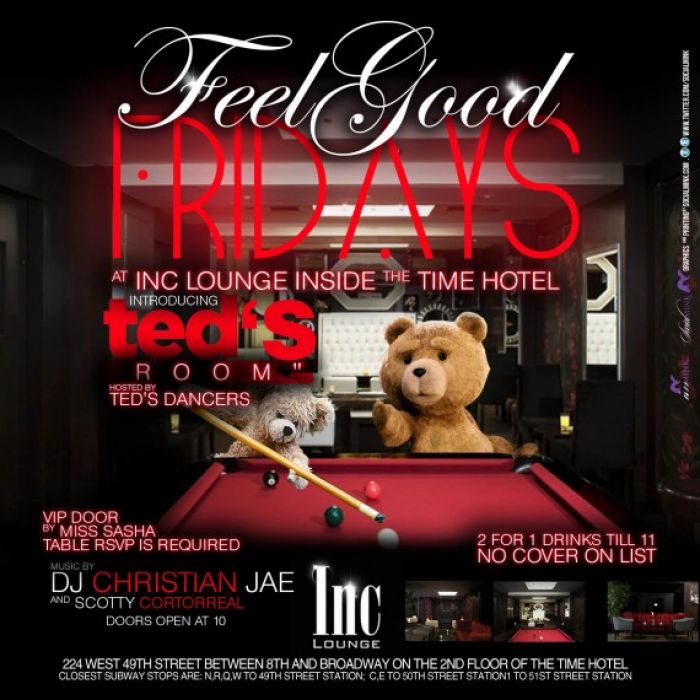 Eric Virgil presents

Feel Good Fridays at Inc Lounge
Located at 224 West 49th Street, between 8th and Broadway
on the 2nd Floor of the Time Hotel.


Event Type: Club and Lounge
Scene Type: Club, Lounge, Summer Event
Music Type: Top 40, Open Format, Hip-Hop, House
Age Requirement: 21 and over
Djs:DJ CHRISTIAN JAE & SCOTTY CORTORREAL
Dress Code: Dress to Impress. Collared Shirts a must for guys


Free on Eric Virgil's guestlist
Free Birthday package. Birthday receive a free bottle of champagne.


Music by DJ CHRISTIAN JAE & SCOTTY CORTORREAL

Bottle Packages:
2 for $500 plus tip for Greygoose, Ciroc, Belvedere, Hennessy plus a free bottle of champagne.

To rsvp, bottle packages or email for information, text 917.664.2686 or email info@ericvirgil.com
Go to www.ericvirgil.com for other parties


Venue Details:
Rock & Roll, fashion, art and nightlife fuse as Ric Addison, who brought NYC the widely popular Rm.Fifty5 , AVA Lounge & K Lounge, unveils Inc Lounge
located on the second floor of the TIme Hotel, 224 West 49th Street. The lounge is 2,500 square feet of Glam Rock luxury. Inspired by the era of 70's club culture, designer, Jody Singleton brings soft and sexy to the hard edge of rock & roll.
Sitting at the jet-black bar, so sleek your Gin & Sin Drink looks as though it's walking on water below black Lucite chandeliers, you notice a wave of contrasting black and white patent leather settees, curvy-striped leather club chairs, brown alligator swivel stools and deep, plush red velvet couches, all accented by Timorous Beasties wild orchid and graphic tattoo mermaid wallpaper and black mirror mini plasma screens.
The further back in the room you go the deeper you enter into the realm of late night in all of its glamour. The back corner houses the DJ area with an intensely high-back gloss tufted sofa which sheen glows against the painfully beautiful wallpaper. As you enter the back room you may feel the urge to stretch out on the oversized cowhide ottoman centered in the room or check out the wall of mirrors to your left, but head straight to the antique inspired black lacquer pool table - a sophisticated beauty in which to test out your skills. Watching from above is a seducing smoking red lips light-box encouraging your game as you order a Crimson Sunset.