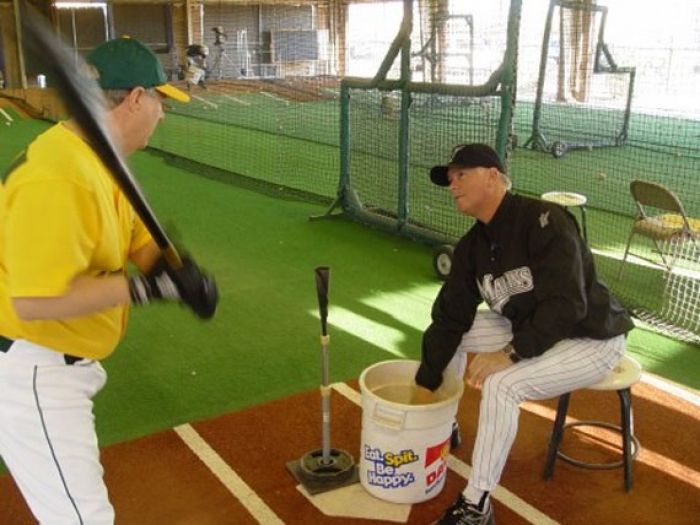 Pro Ball
A golf academy provides professional insight to devoted golfers, and now there is an exclusive baseball camp presented by the Ultimate Adult Baseball Camp that is available for equally devoted baseball athletes. This camp is a great place for advanced-level teenagers trying to break into the bigs, and adult players trying to improve their game.
The four day camp consists of baseball drills, from shagging fly balls, bunting, and baserunning; starting from sunup to sundown. This camp is truly the learning annex for ballplayer and coaches alike who want to develop into better players and teachers. Only 3000 dollars will get you a treat like no other, you will get to play at proffesional facilities and learn from some of the best MLB coaches. Some of the staffs names that may pop out at the avid baseball lover are: Mike Butcher the pitching coach for the Los Angeles Angels, Jim Presley the hitting coach of the Baltimore Orioles, and the outfield coordinator for the Chicago Cubs Lee Tinsley, amongst other great coaches.
Students of this top grade baseball camp will not only get the honor of meeting these great instructors, but also get to participate in skill-building exercises which focus on hitting and fielding under the skilled watchful eye of these more than adequate instructors. Each guest will recieve a personalized video, and the camp will cover all of the nine positions on the field, not forgetting two of the most pivotal in the catcher and pitcher battery. The admission fee also includes nightly catered dinners for the tired trainees, brought to the locker room, and overnight lodging to allow some well deserved rest.
If you are looking for a different form of getaway this year and a way to improve your baseball skills, then visit Pro-ball.com