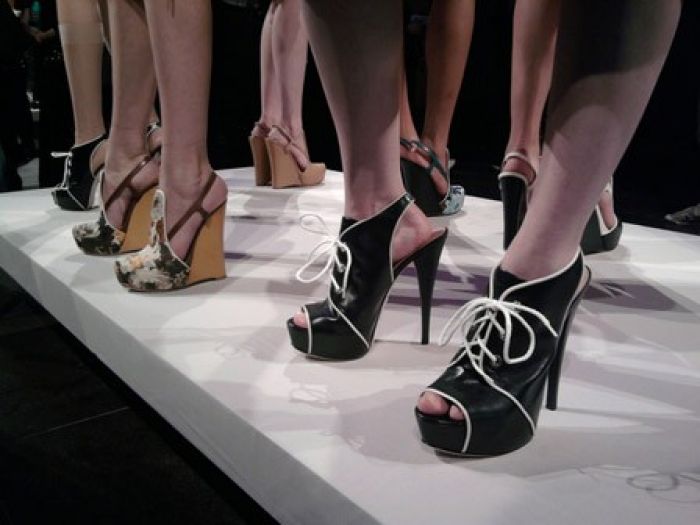 Tourists generally believe that New York is an expensive city. Nevertheless, there are people who actually come here just to spend money on brand clothing and pricey food. New York City has numerous places where a person can go and purchase expensive outfits, jewelry and shoes. Most of the stores are found on shopping streets, such as Fifth Avenue and Madison Avenue. These are renowned throughout the world as being the most expensive, not only for their price, but also for the rent paid by retailers every month.
Saks Fifth Avenue is a big department store located on Fifth Avenue. All famous American designers and numerous Europeans sell their clothes here. It is considered a luxury store and it competes with the '3 B's' stores located in the Upper East Side of Manhattan, Barneys, Bloomingdale's and Bergdorf. Barneys is a chain of luxury stores renowned throughout the world. If you are interested in purchasing brand name clothing from Christian Louboutin, Fendi, Yves Saint Laurent, Marc Jacobs, Prada, Givenchy and many more, then you should go to Barneys. You will definitely find the dress or the outfit you were looking for in order to impress all your friends. In case you do not have a very big budget, then you should just browse and see what you should wear to be in trend for the next season.
Bloomingdale's is another renowned shopping center located on the Upper East Side of Manhattan. It is the ideal place to find everything you need to complete your outfit, from beautiful, brand name dresses to incredible accessories such as jewelry, shoes and bags. They are generally known for presenting the latest designer trends in New York, and also for the 'little brown bag'. You can choose from numerous stores including Calvin Klein, Marc Jacobs, D&G, Giorgio Armani, Gucci and Lacoste.
Bergdorf Goodman is another expensive shopping center, ideal for ladies who also want to have lunch during their shopping spree. It is located in the Vanderbilt mansion and it also houses its own restaurant and a café. There are eight floors where you can browse through designer clothes including Jean Paul Gaultier, Chloe, Narciso Rodriquez, DKNY, Marc Jacobs and Theory. Those who want to get married should know they can find here numerous wedding gowns from Ulla Maija, Oscar de la Renta, Jenny Lee and others. There is also a floor with bridal shoes from Christian Louboutin, Rene Caovilla, Chanel and Manolo Blahnik.
Tiffany's & Co. is another store that you must visit if you want to get a nice gift for a special person. The jewelry store is a bit expensive but it is definitely worth it. The store is divided into departments, and the most important ones are those with wedding rings, men's watches, wedding invitations and registry. If you are looking for a shopping center that has clothes and accessories from all the famous designers, you might not find it in New York. However, all the big stores in the city have their own buildings offering you numerous floors with various brand name clothing and accessories. Most of them are gathered in the Upper East Side of Manhattan and on Fifth Avenue.
This article was written by Ioana on behalf of Nycvacationrentalsonline.com, a provider of over 350 vacation rentals New York and apartments in NYC.