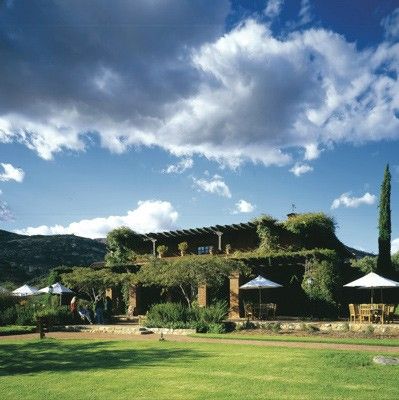 Rancho la Puerta
Credited as being the original fitness retreat, this heavenly sanctuary cum health campus is a family-owned labor of love for over two generations. The vision, plus hard work, plus over 70 years of TLC translates into one of the most authentic fitness-health centers in the world. It was my first time visiting, and I know I'll be back over the years with family and friends, considering most everyone I met at RLP had visited up to 20 times prior.
Each day, guests choose what activities they want to do, from morning hikes to yoga, spin, conditioning, pool workouts, tennis clinics, or Pilates, along with various interesting lectures, chant/breathing classes, creative thinking/music classes. Last, but certainly not least, the food is deliciously healthful, low fat, low calorie, abundant, and beautifully presented, with only the best organic produce, fish and the like. You'll 'get it' when you visit the cooking school herb/veggie/fruit gardens; trust me, it's special and it will stick with you.
Need to Know
Great for:
A week of overall wellness, good rest and back-to-nature living; a real cleansing of the body, which in turn tends to help clear the mind.
With whom:
Mother-daughter combo, your partner or a small group of friends. Solo works well here—it's pleasant to be social when you want and quiet when you please. Note: Most of the guests are 50+, but there is no reason whatsoever that anyone from mid 20s-up wouldn't thoroughly enjoy and benefit from being there. There are more female than male, but the male guests I spoke to (55+ years old) were really enjoying themselves and the quality time with their wife/family (and no, they were not going hungry!)
Memorable moment:
I don't know where to start, as I have so many great memories: Seeing wild horses in the mountains on the 6 a.m. 'coyote' hike; arriving to the cooking school for breakfast with the most sumptuous spread waiting to be enjoyed next to a roaring fire; the WATSU treatment from Keith (no words to describe, sorry); thinking that the gardens/property are what Heaven looks like in my mind; tweeting birds; and staff smiles from their hearts.
Best time to go:
April through November are the most warm and dry.
Be aware:
Rancho La Puerta believes it takes a full week to fully benefit from your stay, so make sure to plan ahead and carve out enough "me time." They do offer half-weeks though, should you not have the week to commit. Note: If you're in nearby Cabo or San Diego area on holiday, there's a new program, Saturdays at the Ranch, which offers a one-day experience as a 'trial' to see if it's for you. Also, the cabin you stay in can affect your perspective. Ask for the SOL area; it has pretty views and is centrally located to walk everywhere in minutes through the beautiful grounds.
Know Before You Go
1. The resort offers cooking classes with time slots filling up on a first-come-first-serve basis. I suggest you register online prior to your visit to ensure you can fit a class or two into your schedule. They're such fun and you'll learn a lot about healthy cooking and how to substitute ingredients you are used to using for more veggie-oriented dishes.
2. WiFi is available in the main lounge 24 hours a day.
3. Getting to RLP is easy-peasy: a 90-minute van ride from San Diego airport.
4. It is completely safe. They have contributed so much to the Tecate community that no one bothers anything having to do with this loved property of 70 years.
5. Pack your UGGs and something warm to wear. It gets chilly in the evening.
6. RLP is not a kick-your-ass boot camp. Go elsewhere if that's what you seek. If you want to lose weight, meet with the GM the first day, plan your fitness classes, and ask that the dining room to serve you small spa-like portions. You're more likely to lose weight this way.
7. Looking for a special gift that will be appreciated over a long time span? Give a week here to someone you love.
Specifics
Room options:
Scattered about the property, resort "casitas" feature their own private garden and patio, and are furnished with brightly colored fabrics, large wood-framed windows and Mexican folk art.
Five room options to choose from: Rancheras: roomy studios for one or two guests; Haciendas: bedroom and sitting area including a fireplace or woodstove; Junior Villas: living area with fireplace and separate alcove for bedroom, ideal for two; Villa Studios: with more space and high cathedral ceilings, these casitas fit up to three; Two-Bedroom Villa Suites: two bed/two bath, a living room, wet bar, dining area and fireplace, great for four people. Fireplaces are in every room and stocked with wood daily. The spaces are old-fashioned, simple, spotlessly clean and comfortable.
Service & vibe:
A friendly and down-to-earth vibe focused on health, wellness and relaxation. The service is excellent, with an expert staff that's always helpful, always smiling, and most of whom have worked at the Ranch for 10+ years. A handful have been there 30+ years. See what I mean? Special.
Food:
With its own six-acre organic farm, it's no wonder the food at Rancho La Puerta tastes so fresh and delicious. The all-natural menu includes whole grains, legumes, extra virgin olive oil, fresh fruits and vegetables, eggs and catch-of-the-day fresh seafood. No meat or poultry here, and little gluten or dairy. If you're nervous about going vegetarian for a week, don't be. The cuisine really is outstanding and more than satisfying. It is not 'diet food' and you can eat as much as you like, depending on your goals. The resort doesn't serve alcohol except for Friday night dinner (wine and beer) but you're more than welcome to bring your own wine if you'd like to enjoy in your cabin.
Price per night:
$3,500 - $4,750 per person for an all-inclusive weeklong visit. Ask about half-week and Saturday day rates. *Spa/beauty treatments are not included but very value-priced treatment packages are available to purchase in advance and whilst there.
Experience It
To Do & See:
There is so much to do and keep you busy; or not, it's entirely up to you. Reading a book poolside is an option as is lounging in a hammock. Attend a nutrition lecture, take a dip in one of the campus' four pools, go to a writing workshop, gather for book club, learn to Broadway dance, go bird-watching, try drumming, or visit the labyrinth—the options are endless. RLP offers it all, including live entertainment, movie nights, and cozy nights in by the fire with your iPad are lovely too.
Sport & Activity:
Where to start—This really is the resort's forte. There are so many fitness programs to try, from Pilates and bar method, to volleyball and water aerobics. Check out the website for a complete list of the all the utterly enticing options. Some favorites of mine: Organic Garden Breakfast Hike, Coyote Hike, Cardio Boxing, and Restorative Yoga. On the class side: Chant, Breathing, Mexico: past & present, and The History of Rancho La Puerta (given by the lovely Consuelita who has been at RLP 50 years, having started as a switchboard operator when she was 18!).
Spa & Grooming:
With three health and beauty centers on 'campus' you'll find yourself somewhere between rejuvenation and paradise. The menu of services, therapists and estheticians are all top-notch and expertly trained. There is an element of maternal coddling; they are so sweet. Don't miss The Skin Care Boutique for your complimentary skin-care analysis and consultation. Spa packages are available and highly recommended as the savings are huge when bought this way.
Local Insights
To Eat:
If you'll be visiting Rancho La Puerta for a complete retreat, it's recommended that you eat on campus for the full effect. The grand Spanish-style dining room provides a wonderful atmosphere to take your meals in and outside—and as I've described—the food is superb A+ (exception: fish tends to be overcooked).
Getting there:
Rancho La Puerta provides complimentary ground transportation via mini-van for your Saturday arrival and departure, to and from San Diego International Airport, about an hour 30 minutes away from the Tecate border. Don't forget to bring your passport.
Rancho la Puerta
Rancho la Puerta
Rancho la Puerta
Rancho la Puerta
Rancho la Puerta
Rancho la Puerta
Rancho la Puerta