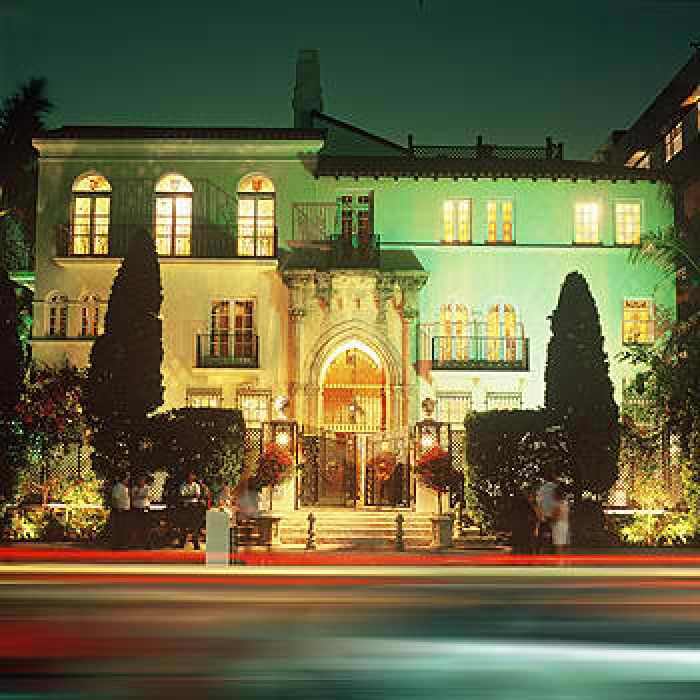 At Barton G., the trendy restaurant in South Beach, it's all about the presentation. Barton G. Weiss, the well- event impresario, created this see-and-be-seen hot spot tucked away on West Avenue in a landmark building with a storied history.
Diners can expect surprise twists on classic American cuisine along with "wow factor" architectural presentation of his original dishes. The relaxed, sophisticated ambiance complements Barton G.'s innovative menu items. Before dinner, guests are invited to order from a menu of inspired cocktails at the stylish bar.
 Appetizers like a "bucket of bones" with ribs, lamb chops and chicken wings as well as coconut "voodoo" shrimp start off the meal. Entrée choices include sea bass, lobster with cream corn, and duck confit. Filet mignon and lamb shank dishes delight meat lovers. Diners can enjoy the meal indoors or in the lush outdoor orchid garden. Also on the menu are elaborate desserts served in large portions meant for sharing. Save your appetite for such delectable concoctions as chocolate treasure, apple cobbler with vanilla ice cream topped by caramel sauce, and grasshopper pie are a sweet way to end the meal.
Barton G. Weiss brings his special over-the-top style to a second restaurant in South Beach, the Dining Room at the Villa. Located right on Ocean Drive opposite the sparkling waters of the Atlantic Ocean, the extravagant restaurant is situated in the famous old world mansion meticulously renovated by Gianni Versace. The critically acclaimed Dining Room offers a lavish fine-dining experience with menu items that are creative interpretations of continental classics. Guests are served on Versace-Rosenthal china, adding to the luxurious feeling.
The Dining Room at the Villa menu includes appetizers like asparagus salad with truffles and snapper ceviche. Entrée selections like poached main lobster with curried coconut milk, Dover sole, a scallop and veal dish with mushrooms and capers and beef tenderloin with Bing cherry bordelaise are on the menu. Menu items are served with the signature Barton G. architectural style. The Villa offers accommodations for guests, a mosaic swimming pool, landscaped gardens and rooftop spa services, making it popular as an event destination.
Barton G. is located at 1427 West Avenue in Miami Beach. For information, call 305-672-8881 or visit the website at bartongrestaurant.com. The Dining Room at the Villa is located at 1116 Ocean Drive, South Beach, and is open from 7 pm until late nightly. For further information call 305- 576-8003 or visit the website at thevillabybartong.com.
I had the pleasure of dining with Sharon Penn, a travel writer and food critic. She writs many articles about South Beach Restaurants.