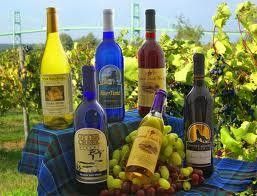 visit1000islands.com
New York is known for it's hussle and bustle throughout the city. Offering so many different venues to explore. During your visit wouldn't it be nice to just take a deep breathe and unwind a little? How about a tour of their local wine country? With their magnificent views and lack of a chaotic atmosphere you will have the opportunity to wind down the 1000 Island - Seaway Wine Trail located throughout Jefferson County. This trail is a 78 mile long trail taking you to many wineries where you can sample New York's finest wines.
You'll have a chance to stop at each winery and explore the many wines and learn just how they grow their grapes. The wineries will host many different special events throughout the year, so be sure to check back with them to see when these events will take place. Hosted events may range from hoiday events, car events, special wine tasting events, and more. You might just want to plan your trip around one of these events.
These wineries have become the second largest attraction in Jefferson County. You will have the opportunity to visit Coyote Moon Vineyards, Otter Creek Winery, River Mist Winery, Thousand Islands Winery, Tug Hill Vineyards, and Yellow Barn Winery. So make sure you add this to your list of things to do and take the time to unwind from all that husstle and bustle.
You might also be interested in:
visit1000islands.com