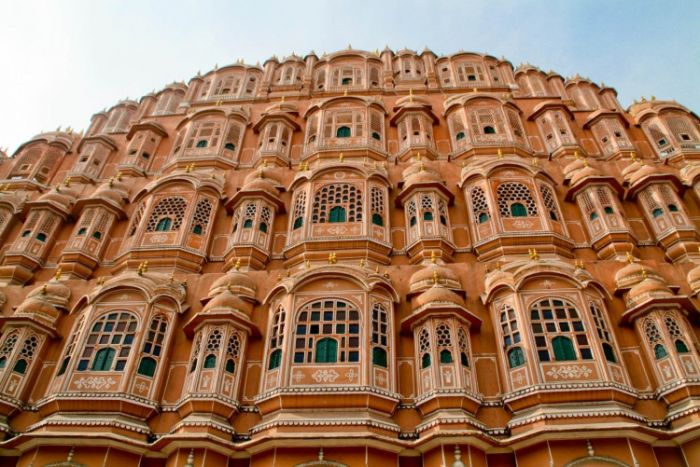 Google
Rajasthan is a prominent land well known for its old heritage, forts and palaces, the Havelis, rich culture and tradition of grand hospitality. Undoubtedly, it is the most charming state of India with grand royal tourist attractions and places of all types that might interest a visitor. The colorful Rajasthan tour is one of the most sought after and beautiful outings with visits to majestic palaces and forts, spectacular deserts, hustle and bustle towns, tranquil lakes, quiet villages, amazing flora, fauna and of course, the wooded hills.

There are several centre places like Pushkar, the desert city of Jaisalmer, and tourists can spend their holidays in a kingly style. The fairs and festivals of Rajasthan truly showcase the culture and rich heritage of the country. Gangaur Festival, Pushkar Fair, Camel Festival, Elephant Festival and Desert Festival are some of the famous fairs and festivals that attract thousands of tourists every year.

Jaipur, the "Pink City," is the capital of Rajasthan and is situated on the broken hills of Aravalis which comprise the historic palaces of the great maharajas throughout past ages. The capital city never fails to leave a mesmerizing impression on the senses of tourists. Jaipur tour has a lot to offer, from outstanding palaces to monuments, handicrafts, fairs and festivals, heritage hotels and museums.

A tour to Jaipur will surely take travelers back in time to the era of kings. City Palace, Hawa Mahal, Jaipur Zoo, Birla Temple, Jantar Mantar, Rambagh Palace, Albert Hall Museum, Jaigarh Fort, Amber Fort, Nahargarh Fort, etc., are some of the major attractions of this city. Some other interesting tourist destinations to explore while in Jaipur are Bharatpur Bird Sanctuary, Ranthambhore National Park and Sariska Tiger Reserve.

Rajasthan is home to numerous royal hotels, all with diverse styles to satisfy the tastes of tourists worldwide. These hotels are internationally famous for their Rajasthani food and warm welcomes. They provide a mixed range of accommodations to suit everyone's taste, whether you are looking for luxury and five star hotels or for an affordable option. Either way, choices are abundant. Some of the best hotels in Rajasthan are located in Jaipur, Udaipur and Jodhpur. Many outstanding palaces and forts of Rajasthan have been converted into heritage hotels so that tourists can enjoy the glory of Rajasthan. Remember, book a hotel that provides services and facilities as per your tastes and expectations. The location of the hotel also plays an important role in making your tour more memorable. So, choose hotels which are situated close to airports, railways or bus stations.