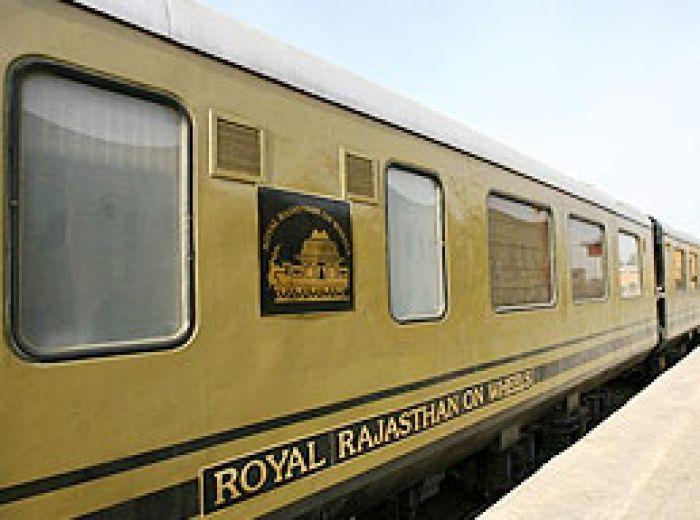 indianluxurytrains.com
Train travelling in India can be an experience of a lifetime. One such travelling experience comes with Royal Rajasthan on Wheels that whisks you through the heart of India and arrives on the 4th day of its itinerary at Sawai Madhopur which is home to Ranthambore National Park. Winter season is the time when India is best visited for its abundant and varied wildlife. Of all the tiger reserves in India, Ranthambore National Park in Rajasthan holds a very special place when it comes to tiger spotting.
Royal Rajasthan on Wheels, launched after the resounding success of Palace on Wheels and growing demand for special luxury tourist trains.Characterized by the seamless blend of traditional and contemporary, the quaint interiors of the train offer suave stay to the guests while high-end amenities ensure that they have all the comfort required in a luxury rail journey. The facilities of this luxury train include Wi-Fi internet, temperature control, satellite TV, channel music and a recreation and wellness spa.
The itinerary of this luxury train is bespoke to offer you a dash of forts, palaces, wildlife, culture, heritage and spirituality in Rajasthan and its vicinity. The 8 days and 7 nights journey on board Royal Rajasthan on Wheels covers various destinations which include Delhi, Jodhpur, Udaipur, Chittorgarh, Sawai Madhopur, Jaipur, Khajuraho, Varanasi and Agra.
Situated in the Sawai Madhopur district of Rajasthan, Ranthambore National park is home to various species of wildlife animals but what catches the eye of tourists is its tiger population. This erstwhile private hunting ground of the royal families of Jaipur and Karauli, Ranthambore National Park has captured the fancy of many wildlife enthusiasts and photographers owing to its diverse wildlife and landscape sprinkled with relics of its royal past. Besides an array of wildlife species, this National Park also houses the famous Ranthambore fort which is located atop the rocky outcrop in the middle of the forest.
Morning safari arranged by the train operators offer the best chance to catch the glimpse of the elusive tigers wandering within the rustic environs which is followed by a sumptuous breakfast on board the train. The opportunity to rub shoulders with the wildlife of Ranthambore in the first half of the day is a fascinating experience. The wildlife excursion is guided and the entry fee to the sanctuary is included in the tariff of the Royal Rajasthan on Wheels. A naturalist is also provided to offer the insight into the flora and fauna of the reserve.
Royal Rajasthan on Wheels truly is one of the most luxurious ways to explore the vivid diversity of Ranthambore National Park. The ultimate luxury and exclusive arrangement of excursion in the park is seldom matched by any alternate ways to have rendezvous with wild in Ranthambore. With plush amenities and traditional hospitality ensuring that guest are coddled in 5 star comfort, wildlife excursion in Ranthambore Tiger Reserve was never this exclusive.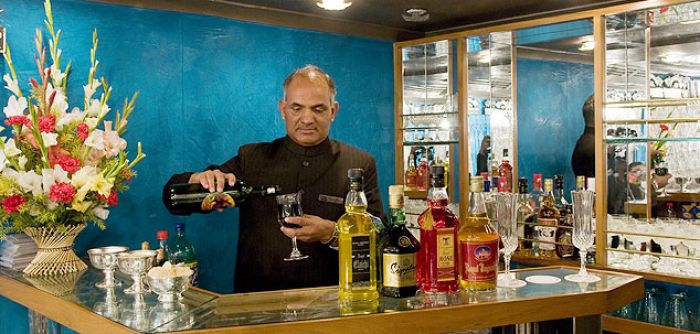 indianluxurytrains.com
Royal Rajasthan on WheelsBar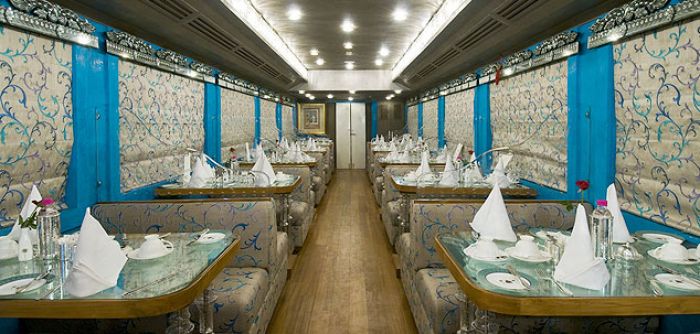 indianluxurytrains.com
Royal Rajasthan on Wheels Dining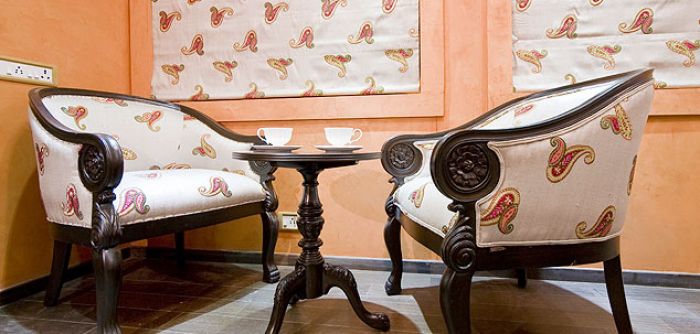 indianluxurytrains.com
Royal Rajasthan on Wheels Sitting