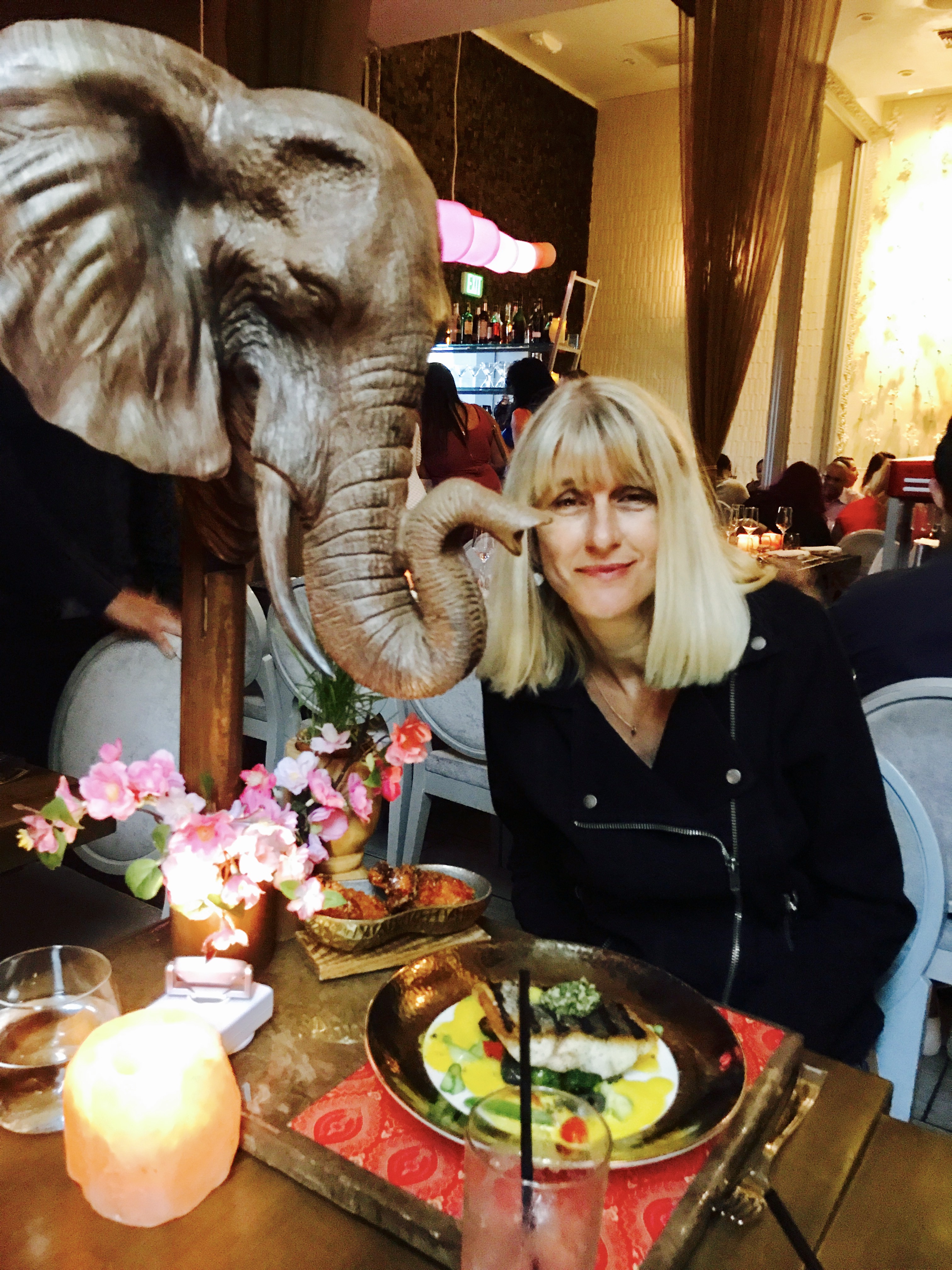 Photos Credit: Jill Weinlein
Walking into Barton G on La Cienega Boulevard is truly one of the most sensational dining experiences in Los Angeles (if not the world). The elegantly decorated dining room in silver and pink with mirrors and romantic lighting is visually stunning. The walls have rows of single stemmed flowers and on the wood tables are raised silver plated placemats embossed with the signature "B". Who is Barton G? The man behind the moniker is concept designer, restaurateur, author, and hotelier, Barton G. Weiss. He stages the most extravagant weddings, sports, entertainment and fashion events with an element of surprise and elegance. He also has been a guest judge on the popular television show Top Chef.
Barton G restaurant is nothing short of amazing. As friendly servers encourage guests to eat and drink as if there is no tomorrow, they bring out enchantingly artistic culinary presentations from the kitchen to the table. Soon the dining room is filled with 'oohs' and 'ahs' as diners grab their camera phone to capture an Instagram moment. The whimsical marble bar near the front of the dining room is a hub for servers gathering to deliver smoking martinis with alcohol-infused popsicles. These signature cocktails come from Barton G's Below Zero Nitro-Bar and are crafted with liquid nitrogen—adding both a refreshing chill and high theatrical drama.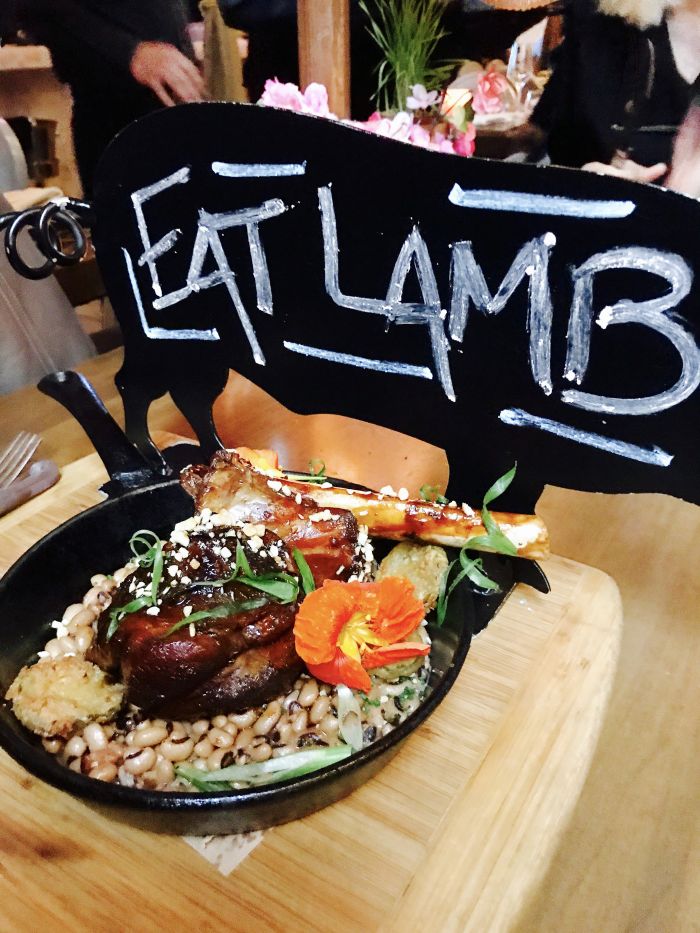 The Buddahlicious drink arrived with a large golden Buddha and Japanese-style disc gong with a mallet to hit, attracting attention around the room. The martini is pear-infused vodka mixed with lychee and cranberry juice and served with a nitrogen Popsicle of pear vodka. At the bottom of the glass is a drunken lychee fruit. The signature Sabrinatini martini is served with a nitro-champagne swizzle stick and a solid dark chocolate monkey hanging down the side of the glass. While sipping our drinks, we pointed out whimsical plates with gigantic fishing lures standing upright and three foot tall silver forks parading through the dining room. These jaw-dropping presentations offer heavenly aromas and flavors.
We started with a Bucket of Bones that arrived with a skeletal statue holding two silver buckets. One was filled with 12-hour cooked baby back ribs, beef ribs, lamb lollipops, and large chicken drumettes. The second bucket was filled with thin and crispy kettle chips. On the stand was a container of honey-Gorgonzola dipping sauce. These props are whisked away after a few minutes to allow more room on the table for other dishes that included Lobster Pop-Tarts. Large pieces of Maine lobster are baked in a Gruyère-Pernod Mornay sauce inside a flaky phyllo pastry shaped just like a Pop-Tart. Two arrive inside a retro toaster with a side of Tabasco hollandaise and tarragon aioli. For entrees, the Thai Me Up Surf-N-Turf is whimsically presented with an enormous elephant head. Offering a Thai twist with Mero grouper and sweet & spicy chicken wings, the flavors included traditional Thai ingredients of coconut-pistachio chutney, kaffir scented curry broth, and stewed peppers. Another "wow" factor dish was an enormous braised lamb shank with black-eyed peas, peanuts, scallions and crispy pickles.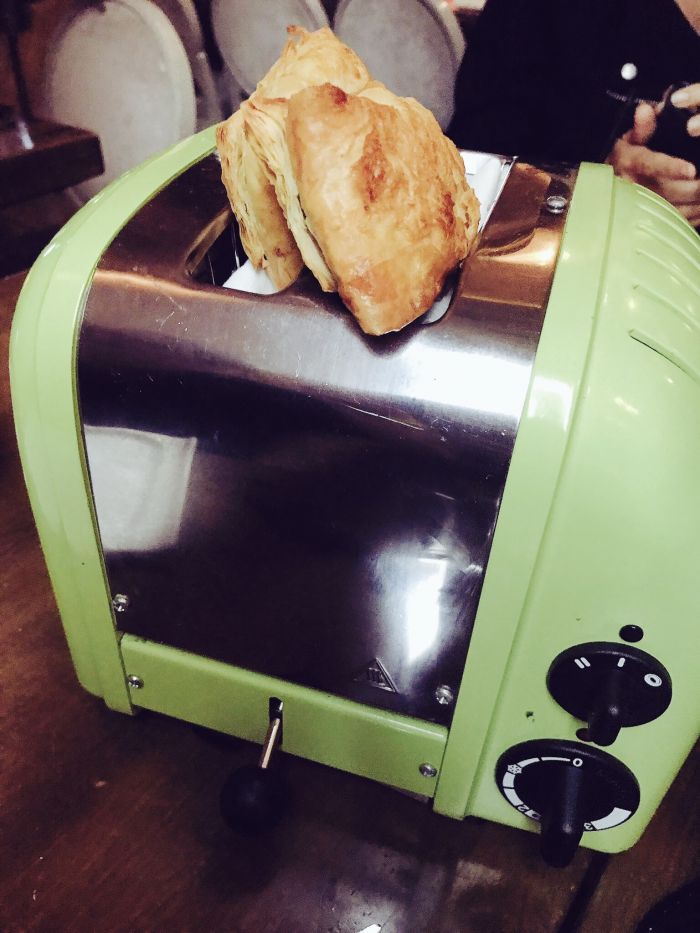 The Lured by Salmon was one of the best pan-roasted Atlantic salmon dishes I've ever tasted. It's served with braised baby turnips, crispy kale and local citrus dazzled with a tamarind-mustard vinaigrette. We finished with two multi-sensory culinary theater desserts that included an enormous yellow rubber duck with a colorful shower cap swimming in coconut meringue next to a coconut angel cake resembling a bath tub. Yellow chocolate-passion fruit rubber ducks were near a faucet with real running water.
The piece de resistance was the Dolla Dolla Bills Y'all, served with a giant curled $100 bill. It's a rich chocolate ganache and dulce de leche tart under a gold brick shell that is torched tableside for a playful take on s'mores. Liquid nitrogen chocolate and a feuilletine golden nugget ice cream is on the side. We needed boxes to take everything that wouldn't melt home, because it's enough sweet treats for 10 guests. Barton G revolutionizes American cuisine, in a fun, upscale dining experience. When it comes to innovative cuisine and over-the-top glamour in Los Angeles, it doesn't get better than Barton G.