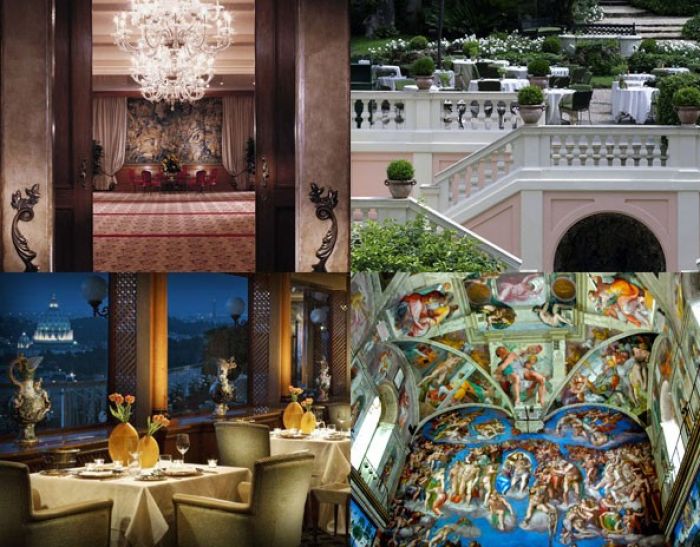 wikimedia
Rome- The eternal city, brimming with the richest history, art, culture and beauty. What better way to fall in love with such a place than to be surrounded in pure luxury. We have rounded up some of the most extravagant spots for you to truly over indulge.
The Hotel- Aldrovandi Villa Borghese
A grand 19thcentury villa decked in marble and adorned with crystal chandeliers. Aldrovandi sits in one of the most prestigious areas of Rome. Recently renovated with 108 rooms including 16 suites and 1 royal suite, this family run, former convent will certainly delight any traveller looking for 5 star luxuries in Rome.
The Restaurant- La Pergola
Sits atop Monte Mario, Rome Cavalieri Hotel and boasts breath-taking, panoramic views of the city. German born head chef, Heinz beck takes credit for the only restaurant in town to be worthy of 3 Michelin stars. From the vermeil plates and cutlery lining your table to the many masterpieces gracing the walls, teamed with exquisite food and wine, there is nothing here that could possibly disappoint you in your quest for pure indulgence.
The Cocktail Bar- Stravinskij Bar at De Russie
Nestled in a private courtyard garden at the Hotel De Russie, Stravinskij bar boasts a fresh, modern vibe and is a heavenly oasis of relaxation amongst the bustling shopping streets close by. Treat yourself to a lunch of Mediterranean specialities and an iced lemon tea, or experience La Dolce Vita with a tipple from their extensive cocktail menu as the sun goes down.
The Spa- De Russie Wellness Zone
After a day of pounding the cobbled streets of Rome, The Russie offers one of the city's most glamorous spas. Loosen up with shiatsu or deep tissue massage or unwind with a Turkish bath, sauna or steam room experience.
The Tour- Early morning Vatican tour
Imagine enjoying the wonder of the Sistine chapel and Vatican museums without the crowds. Journeys to Italy offers early morning and evening tours in which the Vatican restricts the number of visitors to a lucky few for the ultimate cultural comfort.