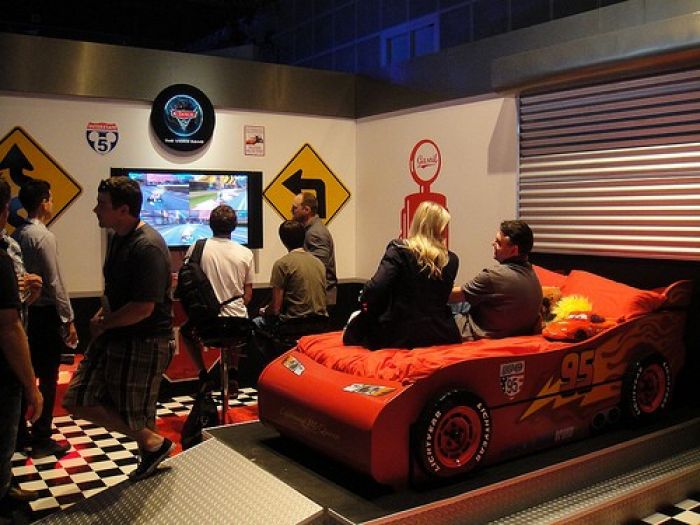 Image courtesy of flickr.com
When talking about home makeover, the very first thing that most of us think is budget. Oftentimes, a makeover implies shelling out huge sum of bucks specially if you are aiming for a lavish outcome. But if you are clever, you can attain what you aim without the need to spend a fortune. All you have to do is be resourceful, imaginative and patient.
Planning to transform your kid's bedroom into a more welcoming sanctuary? You do not have to stress yourself out. Decorating the bedroom of your little ones might sound challenging and costly. However, a bedroom makeover project can be accomplished without the need to allocate much budget. Effort is the main key to realize your plan.
For your makeover project, here are some tips:
Boy or Girl?
Is your child boy or girl? Thinking of who occupies the bedroom is essential. Why? Obviously, this will help you decide what color/s to use and what theme to integrate.
Most boys prefer to see their favorite cartoon characters or heroes inside their room. For instance, some boys want to haveSpidermanorSupermandecor in their bedrooms. Meanwhile, smaller boys might love to see Ben 10 decorations hanging or stuck on the wall. On the other hand, girls are quite different from the boys. Most girls choose to have bright and fun colors in their rooms, such as pink, yellow, purple, etc. Little girls love to fill their rooms with stuff likeBarbie,Powerpuff Girlsand other girly toys. Perhaps the most common theme for girl's bedroom is Barbie-like. Therefore, it is vitally important to consider the bedroom occupant in doing makeover.
Gather the Materials Needed
Once you have decided what theme to use in your child's bedroom, it is now time to acquire the needed supplies. Do you need to repaint the entire room? Check your storage. Maybe you still have extra materials from your previous home improvement project. Look for high-quality yet affordable brand of paint. Some paints have a tendency to break or peel even just after a few days of using.
For your ornaments, you can recycle from things you no longer use. Collect those empty cans and decorate them. These are practical containers for small crayons and pencils. Be resourceful. Take a look at those items you no longer used in your own bedroom, but can still be used in your kids' room. Buy only those materials that you do not have on hand.  
Do it Yourself!
Hire a renovator? Nope, you do not need to - unless you can afford it. If you are on a limited budget, there is no place for professional renovator. Perform the makeover on your own. The makeover project does not have to be overly perfect. In fact, you can be playful with the decoration. There is no restriction to what you can do. A do-it-yourself initiative will not just save you money but can offer you limitless opportunities to express whatever you think is good.
To make the makeover project more fun, ask your kids to help you in the finishing touches. For instance, you can ask them to put the decorations in designated spots or to wherever they want. Working together is a perfect bonding moment. Surely, you will be able to generate a fantastic makeover.
Think of Storage
Look for big boxes. What for? One way to make the kids' room pleasant is to keep it tidy - free from clutter. Decorate those boxes by painting them and sticking some cut-outs on the body. Otherwise, you can cover the boxes with wrapping paper and stick the favorite cartoon characters. After decorating, stuff all their toys in the boxes. Ask your kids to place the toys in the boxes after playing. This will not just keep the room clean and tidy, but can prevent untoward accident.
No matter what size of bedroom your children have, making them appear friendlier can already make a big difference. For those who are living in apartments, like those apartments in Dallas, you may consider other tips to help create an illusion of bigger space.
The secret to having an opulent looking bedroom is your imagination and your child's favorites.
Image courtesy of flickr.com
Image courtesy of flickr.com Creative Commons Lincesed