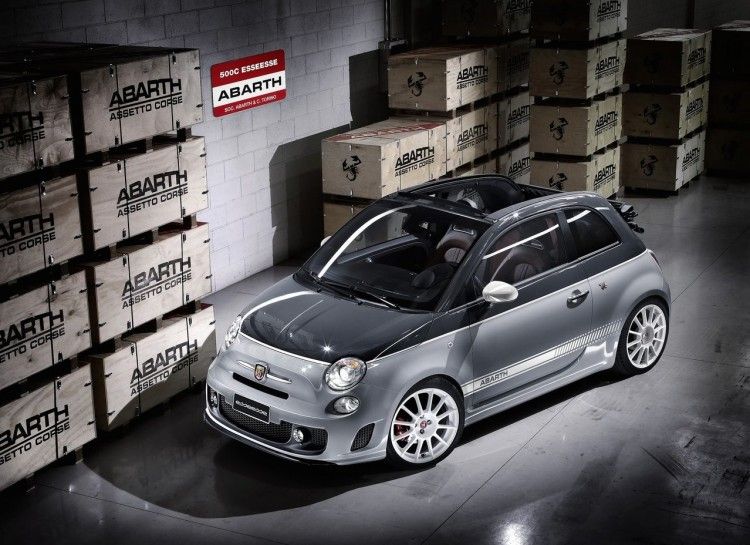 Newspress
It feels like only yesterday, but I actually remember reading the press release about this car when it was released at the Paris Motorshow a few years back. The car is the hot version of Fiat's 500, designed to go head to head with the likes of the MINI Cooper S. As most petrol heads know the Abarth badge is reserved for Fiats most thrilling cars after they have spent some time under the watchful eye of Karl Abarth at the Fiat Groups performance division. The version I have been living with for the last week is in fact the Abarth Esseesse 500 or Abarth (SS) to you and me. The SS is basically a €3000 upgrade kit which can only be carried out to an Abarth 500 within the first twelve months of ownership by Fiat technicians. So what do the boys in Abarth do or more importantly what sort of bang for your buck do you get with the SS kit. First off the engine needed to be tweaked and what better way to start off than with some breathing modifications like a BMC performance panel air filter which gives the engine that nice throaty roar.
Next on the list was the engine control unit and this has been remapped to produce 160bhp and a whopping 230 Nm of torque at 3000rpm. This equates to more than double the regular horsepower and you can you feel it. When testing on the motorway with the go-pedal firmly sunk, I was wearing a rye smile from ear to ear. It just eats the tarmac and obliterates anything in its path. My biggest issue was getting other road users to take the car seriously. As you catch a car in the over taking lane more often than not they will look in the rear view mirror, smile or laugh at the cute car trying to get past and floor it. The fun factor is when they realize your not going anywhere and when they give up you smile in return as the 500 blows past! The SS weighs the same as the standard model at 1,035kg, but the extra power means 0-62mph in 7.4 seconds and a top speed of 210 km/h, which faster but fuel economy and CO2 emissions are unchanged.
Next on the list for the SS Abarth was stopping the little beast and the SS can virtually do motorbike style stoppies at the sight of a red light or tight hairpin. Inside the titanium coloured multi-spoke 17-inch rims,drilled and ventilated 284mm x 22mm brake discs have been fitted up front with performance pads whilst powerful 240mm x 11mm drilled discs are at the rear. Also peering through the alloys you can see the red Abarth SS uprated and lowered spring kit. This gives the SS a firm feel over back roads but a go-kart handling like cornering ability. There is zero body roll, which is vital in a car of these proportions in my view.Stepping back from the Fiat 500 Abarth and admiring the looks you will see that the SS features an extensive bodykit which comprises of a deep front bumper with integrated driving lights and a couple extra air intakes, lower and more prominent side skirts, and an aggressive rear bumper with twin tailpipes and air diffuser insert that looks trick!
Traditional Abarth badging and decals bring the cool exterior to life but still struggle to give the car a manly presence. Whatever way you look at it, itís always going to be a cute looking city car but thatís not a bad thing. Perhaps I donít get away with looking cool driving it but a suave Italian dude or any female will turn heads in this car. Inside the cabin it offers plenty of space with ample amounts of headroom even with the soft top closed. When you adjust the sporty leather Abarth seats it really is a pleasant place to be with everything within easy reach. After my 7-day test period ended I handed back the keys with a hint of disappointment. Some cars are just harder to part with than others! Do the decent thing and get yourself a test-drive in this pocket rocket!
Fiat 500 Abarth Esseesse
Engine:
1368cc Turbocharged petrol 4-cylinder, BMC Performance panel filter, Abarth performance dual exhaust system, Abarth and SS engine detailing.
Brakes:†
Performance 284x22mm ventilated discs up front 240x11mm vented discs with performance pads all round
Suspension:†
Front MacPherson layout with anti-roll bar and Abarth SS lowering springs
Rear Torsion beam axle with anti-roll bar and Abarth SS lowering springs
Wheels:
Titanium coloured 17-inch Multispoke Rims
Front 205/40 R17, Rear 205/40 R17
Exterior:
Complete Abarth Esseesse styling pack consisting or front and rear bumpers, side skirts, decals, rear wing, badges etc.
Interior:
Abarth leather red and black reclining seats, leather steering wheel and gear knob, Abarth Boost gauge with shift light, usual Abarth refinements.
ICE:
Fiat CD MP3 headunit, USB Jack, Blue & Me hands free system.
Performance:
BHP: 160
0-100km/h: 7.4 seconds
Top Speed: 210km/h
Newspress
Newspress
Newspress
Newspress
Newspress