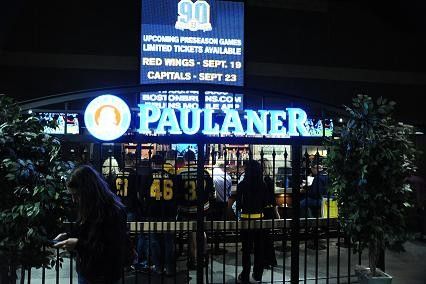 Paulaner
Nothing goes better with a Bruins orCeltics game than beer. Just ask the folks behind the first ever Paulaner Bar to open its doors in the United States. They chose New England's premier sports and entertainment arena, TD Garden, as the location to open thecustom built bar, which was made in Germany.
The bar reflects a modern biergarten in Germany with its custom-made copper and brass draught towers to the oak and maple-topped tables and chairs. Joe O'Grady, vice president at Paulaner HP USA, believes the location on the train platform at North Station will help expose the brand. "TD Garden North Station has annual foot traffic exceeding 8 million people," he said. "The opportunity for the Paulaner brand to be seen by this volume of people in our target demographic is a perfect fit for us. These commuters and event attendees not only are able to see the Paulaner brand, they also have the opportunity to try our beers in an authentic and enjoyable setting."
There were currently five styles of authentic Paulaner draught beer on tap when we visited, including Paulaner Hefe-Weizen, Paulaner Oktoberfest, Paulaner Pils, Paulaner Munich Lager, PaulanerSalvator - as well as three from Munich's Hacker-Pschorr Brewery including, Hacker-Pschorr Weisse, Hacker-Pschorr Weisse Dark and Hacker-Pschorr Munich Gold.
For more information on Paulaner Bar at TD Garden, visit tdgarden.com/the-garden.