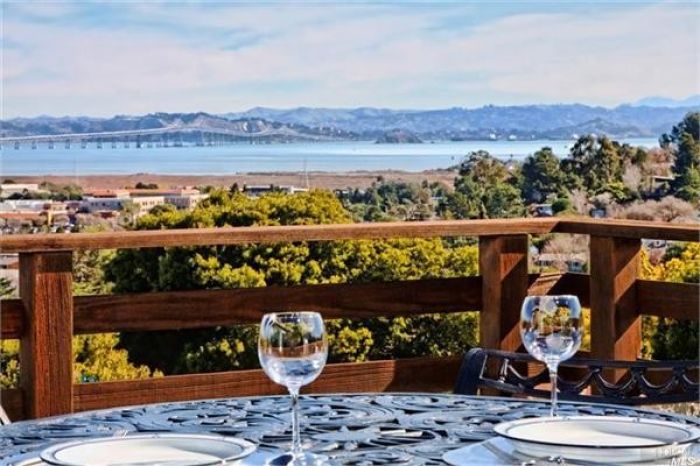 Luxury Portfolio
One true measure of opulence is an exceptional collection of wine. Another is taking wine production into your own hands and crafting remarkable vintages and blends. Here are five of the nation's most beautiful properties where home and winery are paired.

Sherman, TX
High atop a ridge in Sherman, TX resides Angel Ridge Manor. This estate rests on more than 13,000 square feet, all surrounded by a quarter mile long wrought iron and brick fence. The residence boasts seven living areas including a spa, Irish pub, theater, exercise, music and billiard rooms. Although, that is not what makes this property the most unique. This Angel Ridge vineyard home features a 15-acre lot which produces rich harvests of Chambourcin grapes. Additionally, the outdoor area includes two ponds; one full of crappie, bass and catfish.

Redmond, WA
In the tourist district of Woodinville lies a 2.5 acre commercial property, where one can call home. The land has three buildings, one is a three bedroom, two bath home complete with high ceilings and a detached two car garage. The master bathroom is just that with exceptional tiling, fine cabinetry and heated floors for added comfort. Of the remaining two buildings, one is a 2,400 square feet structure used as a wine production facility. The other serves as a wine tasting space complete with a roaring fireplace.

Corte Madera, CA
California living in its finest is achieved at this Corte Madera vineyard home. The 2,694 square feet residence was built with the elements in mind. The two bay views, decks and balcony overlooking the hillside terrace allow one to stay in touch with nature. Creative types also will appreciate this space with the stand-alone artist studio. The various gardens include fruit trees, vegetables and flowers. Lastly, the estate's vineyard  hosts Pinot Noir varietals.

Los Altos Hills, CA
This Mediterranean style home in Los Altos Hills, CA takes posh living to another level. The bay and western hills views are ever apparent with the residence's generous 360 degree views. Car aficionados will appreciate the 10 space garage. Yet the exterior scene may be the most impressive aspect with the in-ground pool, waterfall and outdoor kitchen. For grill masters, there is even a barbecue and fire pit terrace. This vineyard home is exquisite and produces 460 mature Pinot Noir vines.

Edgartown, MA
While this last estate doesn't have its own vineyard or winery, it makes the list for its beautiful aesthetics and location on Martha's Vineyard. Built in the roaring 20s this 5,000 square feet colonial residence in Edgartown was recently restored to represent contemporary decor. This home has all the requirements of family living with an amazing kitchen, massive yard and luxuriously heated pool. The estate also includes a detached carriage house and full guest suite above the garage.
Luxury Portlio
Angel Ridge Manor
Luxury Portfio
Angel Ridge Manor
Luxury Portfolio
Angel Ridge Vineyard
Luxury Portofio
Corte Madera home
Luxury Portfolio
Corte Madera Vineyard