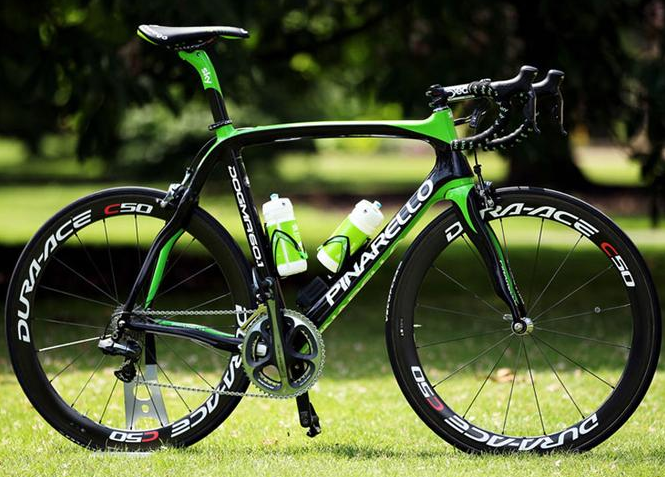 We all know that you can pop down to your local Halfords and pick up a bike from around the £100 mark, but what about if money wasnít a worry?
Specialist bicycle insurer Protectyourbuble.com provides Just Luxe a list of 5 top luxury bikes for those looking for something a little more bespoke:
Tour de France race replica
Fancy yourself as Bradley Wiggins, or Chris Froome? Well try not to worry about the 30k+ miles a year it takes to get anywhere near their fitness levels, and go straight to the hardware. The carbon race bread beauty that is the Pinarello dogma 2 could be yours for Ďonlyí £4k, oh, and thatís just the frame, with no wheels or oily bits.
Tipping the scales at 900 grams, the frame is as light as a bag of sugar, so even if you are carrying a few extra pounds you will know that this F1 inspired superbike isnít.
What about custom built Titanium?
Want something a little longer lasting? A bicycle that says understated cool? But something that still offers top performance? Well then go straight to the titanium custom bike builders. Springing up in the 90ís a number of top companies have been hand making custom cycle frames for the discerning cyclist since.
Check out the Moots Vamoots RSL (Below), with welds so neat it will bring grown men to tears, and with a frame price of £3k it may also bring the same man to tears when his wife finds out.
Titanium or carbon fibre?
Canít make up your mind? Like the look of carbon, and titanium sounds pretty cool also? Well donít worry; the Independent Fabrication XS combines titanium tube fittings, with seamless carbon fibre tubes. So no downside eh? Well the £4k price tag (again for the frame only) could be a drawback. But look at it (Below), even in lycra you would look good.
Donít build them like they used to do?
Oh yes they do. You can order a custom steel bike from Hetchins, built in the traditional way with steel tubes brazed into chromed and polished lugs. Hetchins takes the art a little further, as you can see below. The most beautifully crafted lugs are lovingly filed, painted and polished to create a piece of art that you can also take out for a ride. Like a Savile Row suit, there is no specific price, just a collection of materials, and processes that will cumulate in one beautiful personalised machine.
Too posh to push?
Does all this cycling sound like hard work? Just fancy the idea of fresh air without the sweat? Well Audi have the answer. Their new e bike offers all the outdoor fun with a difference; an electric motor does the hard work! This carbon-fibre tech fest offers wi-fi amongst other things. No prices yet, but it is not likely to be this side of £10k, if not significantly more. Looks like it should have lasers on the front, maybe they are on the options list below.
If you do splash out on any of these beasts, or even something in a more reasonable price bracket; you should be sure to get it insured. In London alone, a bicycle is stolen every 7 seconds, so getting cover is a must. For further information visit Protectyourbubble.com for an instant quote on insurance for your bicycle.
Moots Vamoots RSL
Lycra