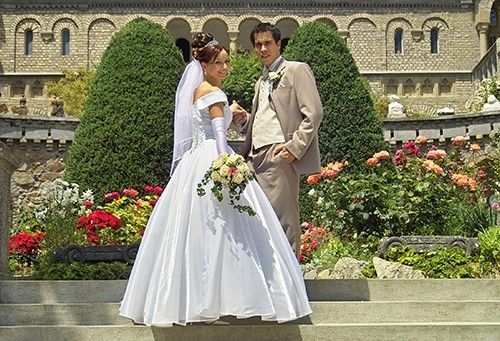 sxc.hu
Every couple would appreciate a luxury wedding. However, if you can splurge on just one luxury item, what would it be? Here are some wedding items you can spend for.

1. Luxury wedding location
Every fairytale needs a good setting. Whether the iconic The Plaza of New York or somewhere exotic like Cyprus or along the beaches of Thailand, a beautiful wedding location is a good element to spend money on. One thing to remember about a luxurious wedding on an exotic locale though, is that renting the place is a big chunk of the total cost but so are accommodations and transportation. Where your wedding is held will be the one of the most memorable details for you and your guests.

2. The wedding dress
Feel the need to splurge on a wedding dress? Vera Wang, Coco Chanel, Monique Lhuillier and Oscar de la Renta are just a few of the names that should come up. These designers are have made the name for themselves as fashion institutions and fairy godmothers in wedding couture. They are also high priced designers. They design wedding gowns that flatters the bride and with price tags that can make a groom blush.

3. Jewelry
If as a couple, you have decided to throw money into your wedding budget; one thing that you should consider is buying something that can last forever. Jewelry is a good investment and also an excellent memento of the love that you have for each other. Jewelry can also hold so much meaning for most couple; the wedding band for example, symbolizes the union and everlasting love of the bride and groom. This symbol can also be made more special by adding the name Harry Winston, the elite jeweler, on it.

4. Wedding entertainment
One of the most important, yet often overlooked, elements of a wedding is the wedding entertainment. You can splurge on your favorite wedding band or the most sought after DJ. Good wedding entertainers have the ability to change the whole ambience of your wedding and make sure that you and your guests have a lot of fun. Whichever you choose, your wedding entertainment can make or break your wedding.

5. The Reception
The wedding reception takes a huge fraction of the wedding budget so why not go all out? Get a luxurious wedding theme and invest on carrying all throughout the details of your reception. Spend money on hiring a great decorator. Another splurge you can take on your wedding reception is hiring an accomplished chef to prepare your wedding feast. This is a good way to share your splurge with your family and friends.

Luxury weddings will always be a thrill. There are a lot of areas to splurge on. That is why a discerning eye is important to know what truly counts. At the end of the day, you have to know what counts the most and more importantly, you have to know what will be most meaningful and memorable.
Melissa Page is a professional writer who loves everything about weddings. She blogs for Music for Scotland, a premier live music agency who represents talented wedding bands across Scotland such as The Royales.